Esperimento interessante quello del GnuQuartet: rivisitare alcuni classici della musica progressive nel loro stile particolare in bilico perfetto tra jazz, rock e musica classica.
Una ventata di sonorità nuove e un lavoro decisamente geniale per lo strano ed eclettico quartetto genovese.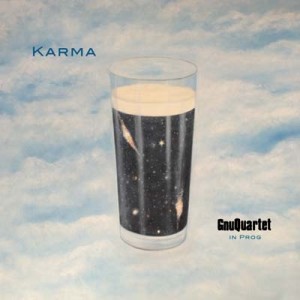 Karma è fondamentalmente un album di cover.
L'unico inedito del gruppo è Stereotaxis, brano suggestivo ed orchestrale dall'atmosfera darkeggiante con strascichi de L'inverno di Vivaldi che rappresenta a pieno il modo di approcciarsi alla musica del GnuQuartet, il loro fondere insieme elementi musicali diversi, evadendo i confini ed esprimendo un concetto progressista (oltre che progressive) della musica stessa.
Il quartetto si è divertito molto a trasformare storiche canzoni prog in autentiche opere di musica classica con spruzzate jazzistiche e rockeggianti qua e là.
Ed è così che brani come Peaches en Regalia di Frank Zappa o Roundabout degli Yes (con l'assolo di chitarra elettrica che rompe l'armonia classicheggiante del pezzo, rendendo il tutto ancora più vario ed interessante) diventano ancora più sperimentali (il che è tutto dire) e splendono di una nuova luce che allo stesso tempo rivoluziona la versione originale ma non ne perde l'essenza, rendendole pienamente giustizia.
Intenso e particolarmente degno di nota è il rifacimento di The Great Gig in the Sky dei Pink Floyd, in cui esplode la voce di Durga Mc Broom-Hudson (la voce autentica del brano all'epoca) che per l'occasione ha collaborato con i quattro istrionici musicisti.
A chiudere il disco ci sono una magica ed incantata Haireless Heart dei Genesis ed un'agguerrita ed affascinante Concerto Grosso 1, I tempo, Allegro dell'orgoglio prog italiano New Trolls in cui l'eleganza della viola, del violino, del violoncello e del flauto lottano con l'elettricità della chitarra (quell'Andrea Maddalone in persona), creando una sintonia perfetta tra i vari strumenti.
La storia della musica che assume una forma più fresca e non meno valida.
Le quattro stagioni che incontrano la musica rock.
Una nuova dimensione del progressive.