Roma, 8 aprile 2019
Quella di Roma è l'ultima tappa del tour italiano dei Low.
La band statunitense ha accolto presso la Sala Sinopoli una folta processione di fedeli: l'Auditorium Parco della Musica per una sera si è trasformata in un luogo di culto, radunando i numerosi fans del gruppo che da tempo aspettavano un concerto nella capitale.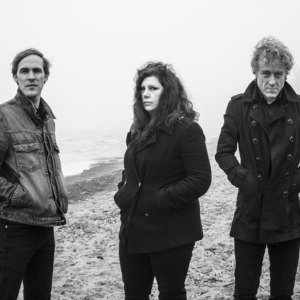 Sono passate da poco le 21 quando le luci si abbassano e il buio avvolge la sala.
Un buio che ci accompagnerà per tutta la durata del concerto e che sarà interrotto (raramente) da alte luci pulsanti che non andranno mai ad illuminare il trio.
Stabili in fondo al palco solo tre colonne a led orizzontali, necessarie per la proiezione dei visuals.
Tuttavia, agli occhi risaltano subito e solo le sagome dei tre – Alan Sparhawk (voce e chitarra elettrica), Mimi Parker (voce e batteria) e Steve Garrington (basso).
È chiaro, ai Low non importa stare sotto i riflettori in alcun modo.
D'altronde, in quello che in città viene considerato come il tempio della musica non possono davvero essere loro i protagonisti.
In primo piano, su tutto, il loro sound: così ricercato e variegato, è il frutto di continue metamorfosi che accompagnano il gruppo sin dagli esordi.
Ad interrompere il religioso silenzio dell'attesa è 'Quorum', brano iniziale anche di quel "Double Negative" da molti considerato uno dei best album tra le uscite del 2018.
Ed è proprio questo disco il fulcro della serata il cui incedere è lento e cadenzato.
Tra atmosfere rarefatte, echi a doppie voci ed un basso a dir poco granitico, si alternano momenti di morbida pacatezza ad esercizi di stile.
Quello dei Low è un live nel quale trovano spazio ballad ('Holy Ghost'), brani che strizzano l'occhio all'indie folk ('What Part Of Me') e all'elettronica ('Fly') – pattern in realtà presente durante tutta l'esibizione.
Il momento più alto lo si raggiunge indubbiamente verso la fine, quando in 'Do You Know How To Waltz' chitarra e basso restituiscono ai presenti un lungo, incantevole ed indimenticabile momento.
In bilico tra post rock e noise, Alan Sparhawk e Steve Garrington costruiscono e demoliscono, mattone dopo mattone, un muro intenso tanto quanto destabilizzante.
Il primo non esita nell'affondare i denti tra le corde della chitarra; il secondo, continuamente ricurvo sul proprio strumento, va alla ricerca della perfezione in un caos sonoro che apparentemente non ha capo né coda.
Poche parole, quel che basta per ringraziare i presenti «per tutto il calore percepito in così poco tempo»: a parlare con evidente emozione è solo lui, Alan Sparhawk.
Nonostante sia visibilmente stanco, sembra quasi non aver voglia di lasciare il palco – e noi, in fondo, abbiamo sperato che la serata davvero non avesse fine.
---
Ascolta la playlist con la scaletta del concerto