La sera del 18 novembre il palco del Bronson è stato la location di un'esplosione di psichedelia grazie ai giapponesi Kikagaku Moyo.
La band, fiore all'occhiello dell'etichetta Guruguru Brain, specializzata nell'underground asiatico, arriva a Ravenna per la loro unica data italiana a presentare l'ultimo lavoro, "Masana Temples".
In apertura della serata il palco è stato dominato dagli Sherpa, un gruppo di origine abruzzese che ha riscosso un discreto successo anche all'estero, tanto che la tedesca Sulatron Record si è occupata della produzione di entrambi i loro dischi.
Il loro ultimo lavoro, uscito quest'anno, prende il nome di "Tigri e Eufrate", che già dal nome promette un'indagine profonda e introspettiva nella storia dell'uomo, con un oscuro viaggio psichedelico – cosa che li rende perfetti per l'apertura della serata, permettendo al pubblico di entrare nel giusto mood per godersi il concerto successivo.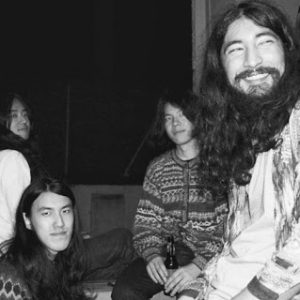 Alle 22.30 spaccate salgono sul palco i Kikagaku Moyo, che a vederli tutti e cinque con questi lunghi capelli scuri e i vestiti colorati sembrano provenire direttamente dalla summer of love degli anni '60.
Si parte con il disco nuovo, e immediatamente si viene catturati da un'atmosfera sognante e onirica, che lentamente trascina il pubblico verso mondi e spazi indefiniti.
La scena viene conquistata dal sitar elettrico, maneggiato magistralmente da Ryu Kurosawa, che riesce ad unire la musica classica indiana a ritmi folk e Kraut rock anni '70 (e che a mio avviso valeva da solo il pezzo del biglietto).
Per quasi ogni brano, da 'Dripping sun' (che appartiene all'ultimo disco) sino a 'Green sugar' (che invece è contenuto nell'album precedente, "House in the tall grass"), gli intro vengono dilungati con percussioni lente e monotone per aumentare la suspance, fin quando non arrivano le esplosioni di chitarre che riescono a mandare in visibilio il pubblico.
All'improvviso sul palco arrivano due sedie bianche e per un po' rimaniamo tutti interdetti e incuriositi, mentre i componenti della band ci guardano e se la ridono sotto i baffi, consapevoli di aver completamente focalizzato l'attenzione dei presenti.
Il batterista Go Kurosawa lascia la sua postazione per sedersi al centro del palco e cantare un paio di pezzi, tra cui una dolcissima 'Cardigan Song', mentre alla voce Tomo Katsurada lo accompagna con un contrabasso.
Per la chiusura del concerto ognuno torna alle postazioni iniziali, concludendo con alcuni vecchi classici come 'Smoke and Mirrors'.
Tecnicamente impeccabili, i Kikagaku Moyo si confermano una delle band più interessanti e affascinanti nel mondo del rock psichedelico, riuscendo a creare atmosfere oniriche e surreali tanto dai dischi quanto dal vivo.
Anche il merchandising merita assolutamente una menzione: rispecchia al meglio l'attitudine della band.
Un caleidoscopio di colori accesi e vivaci, stampati su qualsiasi cosa, persine sulle cartine per sigarette.