A chi si lamenta che a Firenze e dintorni non ci sono occasioni per ascoltare buona musica rispondo: «siete pigri o male informati».
É il 19 novembre, un giovedì sera, e in quel di Prato si rinnova l'appuntamento settimanale con la serata a cura di DioDrone.
La location è quella di Struttura Birra, una birreria artigianale nel cuore della città, e grazie all'originale direzione artistica curata da Nàresh Ran Ruotolo si alternano qui realtà musicali per niente banali e decisamente interessanti.
Stasera è la volta degli Holiday INN che arrivano direttamente dalla capitale con il loro progetto minimal synth punk dalle sonorità acidissime e che vede la collaborazione di Gabor alla voce e Bob Junior alle tastiere e drum machin.
Assieme a loro, a dividere la scena, anche i locali Hero Shima trio post punk/indie alla vecchia maniera.
Ad aprire la serata sono appunto i giovanissimi Hero Shima, formatisi nel 2014 per mano di Cristiano Poli, Andrea Spagnesi e Federico Valente: il trio chitarra, basso e batteria ha chiare influenze che vanno dal punk al primo indie rock, ricordano per sonorità, ma soprattutto per la timbrica vocale del cantante, i primi Interpol o i vicini Editors.
La scaletta composta da nove pezzi, riporta all'atmosfera dei club londinesi dei primi anni '90. Freschi dal primo, omonimo, Ep, gli Hero Shima coinvolgono il pubblico e risultano da subito, malgrado la giovane formazione, molto convincenti e coinvolgenti.
Il genere rischia di risultare monocromatico se non ben articolato, ma dopo più di metà scaletta la band riesce invece a stupire il pubblico aumentando i giri di basso e aggredendo la batteria nella miglior tradizione del punk. Il loro set scivola via senza particolari intoppi, regalando una performance (forse) inaspettata.
È il momento di un rapido "cambio palco", anche se per la particolare location in cui si svolge il concerto non si può propriamente pensare ad un palco tradizionale.
Ora tocca agli Holiday INN, e la curiosità nei loro confronti è tanta: personalmente ne ho molto sentito parlare, ma non ho mai avuto occasione di ascoltare i loro brani – è anche per questo motivo che ho deciso di presenziare l'evento.
Già dalle prime note capisco che non rimarrò delusa: synth estremo ed effetto vocoder, è così che attaccano gli Holiday INN.
A prima vista non si riesco a capire come così tanti suoni possano uscire da un piccolo synth, e in realtà la storia è molto più complessa di quel che sembra: tastiera e drum machine anni '80 vengono filtrate da un echo, passano in un overdrive ed il tutto viene poi sparato in un amplificatore da chitarra per dare al suono un effetto low-fi.
La stessa tecnica è stata usata anche per la voce, ed il risultato sonoro è semplicemente geniale.
Il cantante degli Holiday INN (petto nudo e giacca bianca) si muove a ritmo concitato: il suo non può essere definito un cantato, ma una sorta di liberazione a metà tra un grido disperato e una nenia. In maniera assolutamente disarmante si dà al pubblico senza filtri e ricorda nelle movenze e nel modo di approcciarsi al palco il Ferretti degli esordi e il Keenan più scatenato.
La musica alterna momenti concitati e periodi più introspettivi, una sinfonia modernissima con uno sguardo alla Berlino degli anni '90.
Quella degli Holiday INN è una performance difficile da descrivere: nel loro caso non si può parlare di giri di basso o assoli di chitarra, di tecnica o intonazione.
Il tutto è più immediato, viscerale e diretto, bisogna ascoltare con le proprie orecchie e viverla per comprenderla a pieno.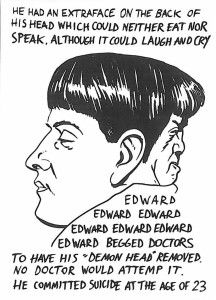 Con uno stacco deciso, gli Holiday INN chiudono il concerto e salutano il pubblico che esaltato chiede il bis, prontamente concesso dal duo romano. E durante l'esecuzione, Gabor tra il pubblico ha regalato ai presenti un volantino con le seguenti parole:
«He had an extraface on the back of his head which could neither eat nor speak, although I could laugh and cry. Edward, Edward, Edward, Edward, Edward, Edward, Edward, Edward begged doctors to have his  demon head removed. No doctor would attemp it. He committed suicide at the age of 23»
Un estratto della storia di Edward Mordrake, l'uomo con due facce.