Il 14 novembre la meravigliosa struttura del Teatro Dal Verme è stata la perfetta cornice per una lezione di live attitude durata due ore e che sin dalle prime note ha conquistato il caloroso pubblico presente.
Un teatro che chiama a gran voce l'ingresso della cantante, Beth Hart, che regala la prima perla della serata con la meravigliosa 'Rhymes', scritta a quattro mani con quell'astro consolidato a livello mondiale che risponde al nome di Joe Bonamassa.
Non si fa in tempo ad applaudire che Beth Hart chiede ai presenti di ballare e cantare con lei 'Sinner's Prayer', durante la cui esecuzione la stessa Beth lascia il palco per girare tra le file e le gradinate del teatro ad abbracciare, salutare, sentire il contatto fisico con i suoi fans.
Tutto il set della serata conta 21 brani ed è un lungo e intenso corteggiamento di atmosfere blues, voce incredibile e canzoni che a fatica tengono il pubblico seduto sulle poltroncine.
Un pubblico che scoppia in un tributo d'amore con standing ovation alla fine di quasi ogni esecuzione.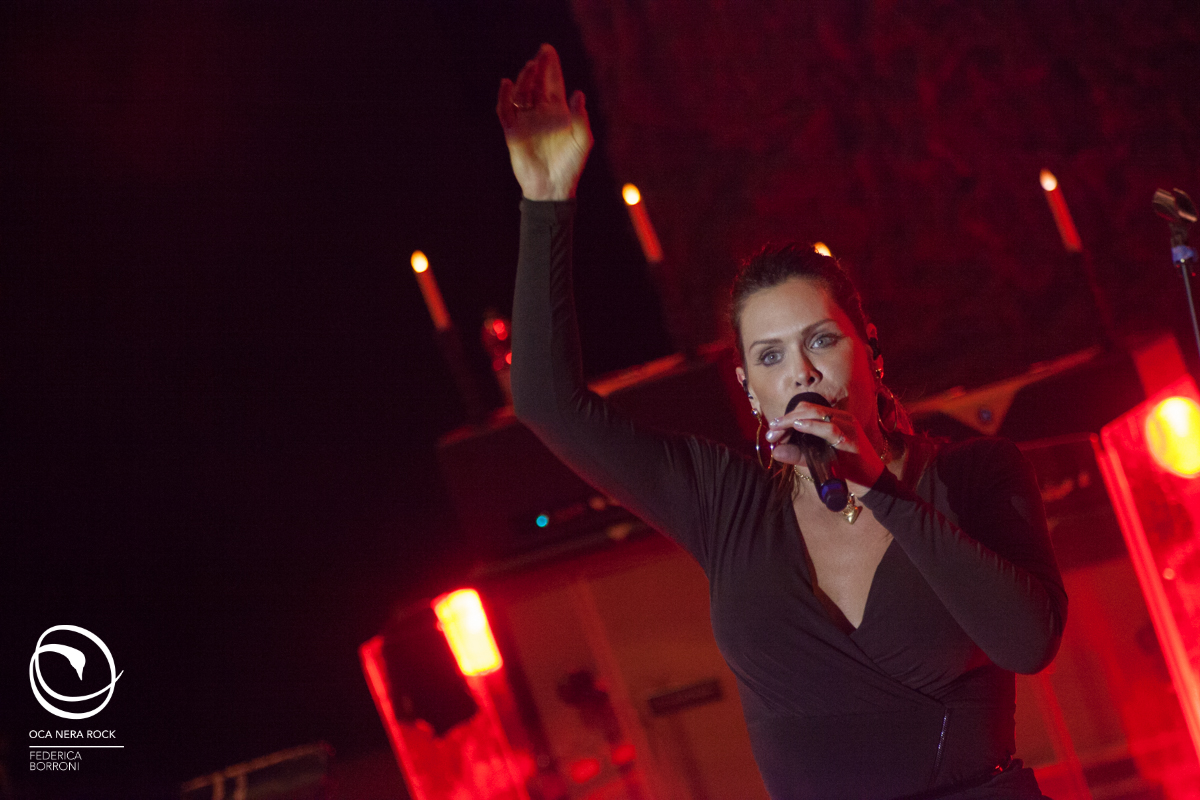 Con una narrazione della vita e delle emozioni che si possono provare anche violentemente, attraverso la propria voce Beth Hart viene percepita dal pubblico in tutta la sua potenza e inesorabile fragilità e che 'Sittin Me Free' e 'Good As It Gets' rendono viva.
In mezzo a loro, 'Love Gangster' è il primo pezzo del nuovo album che dà il titolo al tour e abbinato a 'Bang Bang Boom Boom' va a completare il tema della vita pericolosa tanto caro al blues classico.
Fulcro dell'esibizione sono i brani che caratterizzano il nuovo album, "Woman you're dreaming of", che vedono Beth Hart salda e sicura al piano raccontare la triste storia di un grande amore che, nonostante sia sdraiato a letto con te, pensa a qualcun altro.
In scaletta si prosegue con 'Fat Man' (che sembra parlare di un personaggio di Bukowski), 'Let's Get Together' e la struggente 'Love Is A Lie'.
'House Of Sin' e la successiva 'G.O.P.' vedono la cantante nel ruolo di bassista acustica: praticamente, un'anima nuda che si presenta al pubblico piena solo della sua essenza.
Torna il dualismo con Joe Bonamassa con 'I'll Take Care About You' e 'Baddest Blues', e l'attenzione è ai massimi livelli.
Della recente produzione fa capolino 'Tell em to hold on', una canzone bellissima ed intensa suonata al piano.
Segue 'Baby shot me down', con un gusto particolarmente classico nella produzione musicale degli anni d'oro del blues e del soul ripreso nel lento successivo 'Sunday Kind Of Love'.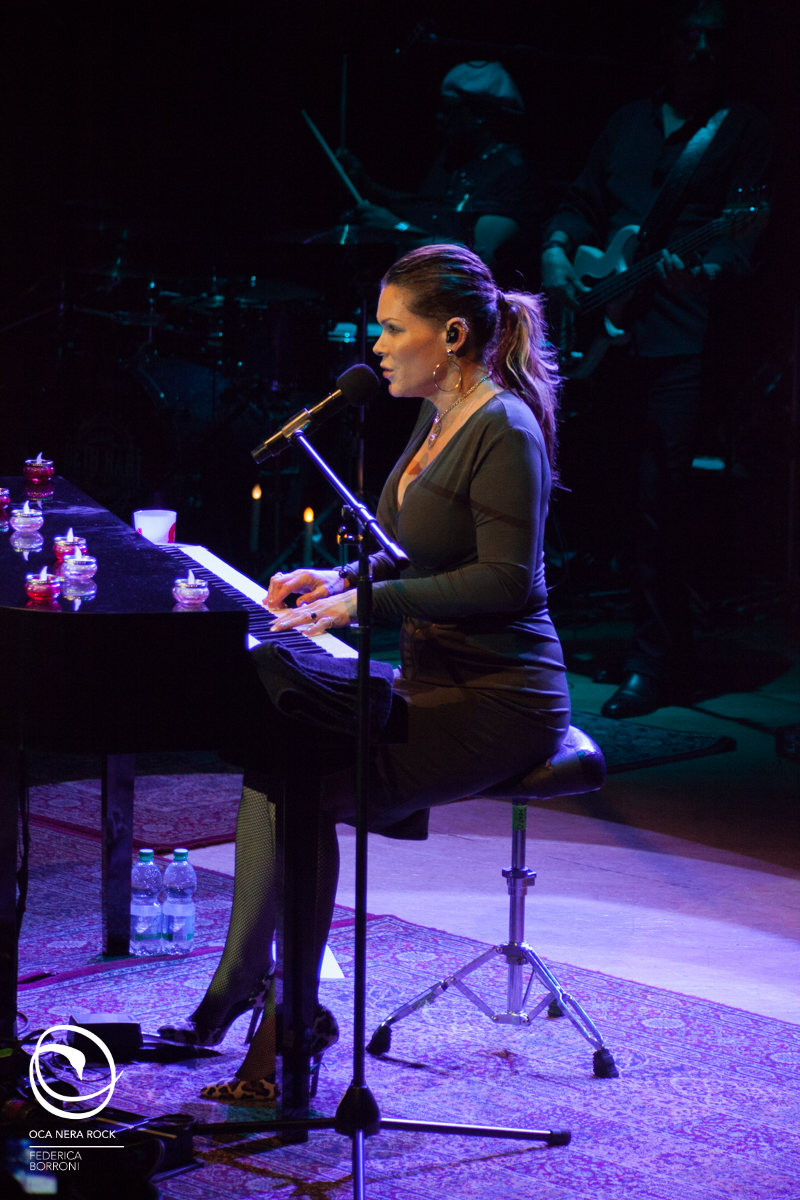 Spalancando ancora di più il suo cuore al pubblico, dopo una pausa le note sul piano di 'As Long As I Have A Song' riempiono il teatro scuotendolo con la loro dolcezza.
Dolcezza che si ripete nel titolo della successiva 'Delicius Surprise', dove si imbocca allegramente, perchè la vita è anche quello: la strada verso il finale.
Finale che vede la title track dell'album "Fire On The Floor" con un animo da colonna sonora di Tarantino, ultimo brano eseguito con la band.
Il vero finale in realtà è un intimo saluto al pubblico con nient'altro che un solo al piano, la sua voce e il pubblico che pende dalle sue labbra.
Un saluto dove 'Jazz Man' e la conclusiva 'No Place Like Home' sono un bacio di arrivederci ad una ragazza che non ha avuto paura di mostrare la sua lotta interna tra fragilità e insicurezza con attraverso la sua straordinaria voce.
Tutte le canzoni proposte al pubblico sono un'altalena tra emozioni forti e personali, come la canzone dedicata alla madre che a 82 anni ancora non si arrende e ricerca l'amore e la vita o i momenti in cui si viene proiettati in un club smooth jazz della Chicago anni '40, con l'ombra di Cab Callowey a tenere banco durante la serata.
Beth Hart regala una performance intensa, sudata e carnale.
La sua voce è incredibilmente potente quasi al punto di non necessitare amplificazione e l'uso del vibrato alternato ad una struttura sonora ben orchestrata eleva molto ogni brano e ne esalta ogni strofa.
La sua voce, dura e piena, afferra queste canzoni intense e nonostante nessuno si sbilanci va detto che Beth Hart oggi rende giustizia alle grandi interpreti del passato quali Aretha Franklin, Etta James e Billie Holiday – come d'altronde le viene riconosciuto con premi e collaborazioni eccelse.
Una serata magnifica, che si conclude con una speranza: dopo il lungo tour negli USA, ne seguirà un altro in Europa ad aprile 2018.
Speriamo sia un'altra ottima occasione per ascoltare Beth Hart live.
---
Vuoi vedere la gallery completa della serata?
Clicca qui.