Berlino, 05 ottobre 2019
Due ore di live senza pause o chiacchiere e quasi 40 pezzi ad altissimo livello: signore e signori, ecco i Pixies.
A distanza di quasi un mese dal rilascio di "Beneath the Eyrie" (leggi qui la recensione al disco) e dall'inizio del tour promozionale, Joey Santiago, David Lovering, Paz Lanchentin e Franck Black portano il loro show alla Columbiahalle di Berlino.
Sin da subito ci si rende conto che non sarà un concerto normale bensì un viaggio incredibile ed imprevedibile nella lunga discografia del quartetto di Boston.
I brani in scaletta sono tanti, anzi, tantissimi: una caratteristica di questo tour é proprio la setlist, tra le più lunghe in assoluto.

Si parte con 'Cecilia Ann', 'Something Against You' e una 'Isla De Encanta' sulla quale Franck Black dà dimostrazione del fatto che ha ancora voce e forza da vendere, alla faccia di chi pensava che ormai il suo tempo fosse passato.
'Wave of mutilation' esplode all'improvviso e si manifesta con il primo pogo sotto palco, a conferma del lato più dinamico e travolgente, che si manifesta di nuovo poco dopo su 'Nimrod's Song'. Pochi pezzi e si capisce che il gruppo c'é, ha voglia di suonare e di dare al pubblico quanto atteso -pubblico che ovviamente ricambia estasiato alla grande.
Sulle note della seguente 'Brick is Red' inizia quasi un concerto a sé, un viaggio ipnotico in cui le canzoni si susseguono quasi come in un continuum, con il pubblico totalmente rapito ed in trance: 'Break My Body', 'Cactus', 'All I Think About Now' e sopratutto 'Gouge Away', eseguita magistralmente, rappresentano uno dei momenti di punta di tutta l'esibizione.
'Mr. Grieves' e 'Bone Machine' preparano la strada al brano che probabilmente ha maggiormente caratterizzato i Pixies, quella 'Where Is My Mind' cantata quasi in coro da tutti i presenti, tanto attesa quanto sognata e sperata (e sicuramente da sentire almeno una volta dal vivo).
Risulta difficile trovare un pezzo che possa essere un degno seguito a tutto ciò ma il problema viene risolto abilmente con 'Bird of Prey', una delle nuove canzoni, ma sopratutto con una seconda versione di 'Wave of Mutilation' (molto più lenta) e la cover di 'Winterlong' di Neil Young.
I quattro si ritrovano alla grande sul palco, il meccanismo sembra oliato alla perfezione e i brani si susseguono senza cali o altri imprevisti, in un flusso continuo a cui non sembra esserci fine. Nessun saluto, nessuna parola, nessun riferimento a Kim Shattuck, ex-bassista scomparsa pochi giorni fa dopo una battaglia contro la SLA durata due anni.
Niente chiacchiere, conta solo la musica.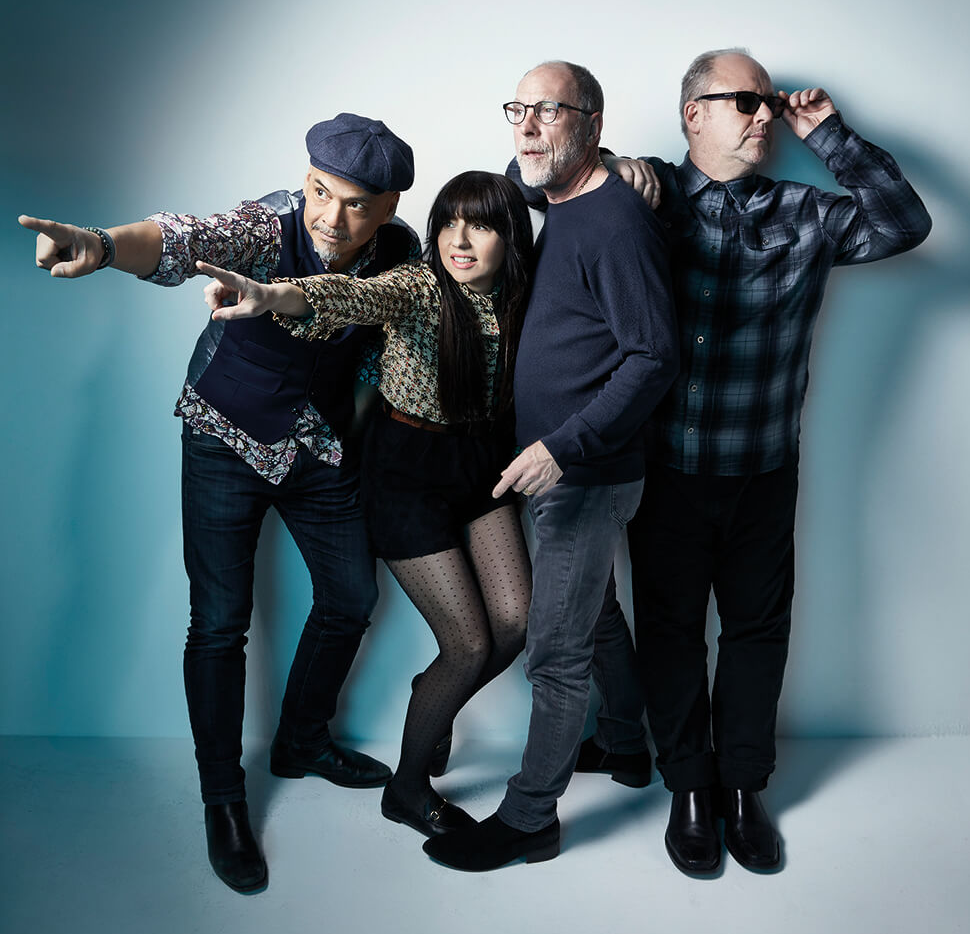 Per quanto riguarda il nuovo album, il pubblico sembra avere ancora bisogno di metabolizzarlo per bene.
In scaletta ne vengono proposti quasi tutti i brani ma, al contrario delle date precedenti, a Berlino occupano per lo più la seconda parte del concerto.
I pezzi sono stati sapientemente mescolati con i brani più vecchi e amati dal pubblico, e quasi verso la conclusione della serata arrivano in blocco 'Daniel Boone', 'Silver Bullet', 'Catfish Kate', 'Death Horizon' e 'In the Arms of Mrs. Mark of Cain'.
Le seguenti 'Hey' e 'U-Mass' ci portano al primo momento in cui il gruppo si ferma e che coincide anche con i saluti finali.
O almeno, un primo giro di saluti visto che poco dopo il gruppo suona un ultimo pezzo, una 'Debaser' che segna il momento di massimo godimento raggiunto dal pubblico a conclusione di un grandissimo live.
Come band d'apertura si sono esibiti i Blood Red Shoes, ma purtroppo per loro oggi non ce n'era per nessuno.