Bryan Adams porta il suo "So Happy It Hurts" tour a Roma
Grande prova al Palazzetto dello Sport con il rocker canadese
La musica Pop/Rock è una forma di arte, probabilmente la più moderna e iconica che ci sia stata nel ventunesimo secolo senza alcuna soluzione di continuità.
Ma è una forma d'arte assai più complessa di quello che ci possiamo aspettare.
Non si tratta solo di talento e ispirazione ma è anche metodo, allenamento e testa.
Solo i primi spesso portano a bruciarsi come una fiamma potente; solo i secondi finiscono per invecchiare nel lento agonizzare di un tempo creativo.
E poi ci sono anche coloro che nutrono il talento con il lavoro di star del Rock.
Bryan Adams appartiene sicuramente a questa categoria: sangue canadese vivo, affascinato sin da ragazzo dalle icone radicali anni Sessanta in cui affonda tutto l'immaginario rock della controcultura.
Capace negli anni di reinventarsi cantante Pop e collaborare con molte delle grandi star del panorama mondiale (da Sting a Rod Stewart) senza mai perdere la propria impronta.
Le hits degli inizi come 'Summer of 69', '18 Till I Die', 'Cuts Like a Knife' riportano agli albori del vecchio rock americano.
Ma si è cimentato anche in romantiche ballate – come 'Straight From the Heart' – delle quali, alcune usate anche per il cinema come 'Everything I Do i Do It For You' ("Robin Hood") e 'All For One' ("I tre moschettieri").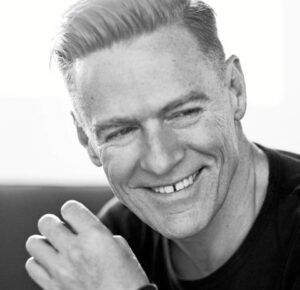 Superati da qualche anno i sessanta, Bryan Adams si diverte ancora a girare per i palchi del mondo e a sfornare album: forma fisica invidiabile e voce che non sembra avere cedimenti con quel tono graffiante e vetrato che pochi hanno ma che molti gli invidiano.
Supportato sempre da una solida band, capace di spolverare un repertorio che seppure ormai ha più di qualche lustro sulle spalle non sembra affatto subire i segni del tempo.
I suoi concerti sono anche un modo, dopo il blocco pandemico, per riallacciare un rapporto col proprio pubblico che a metà concerto gli richiedono singole canzoni dal suo sterminato repertorio.
Che il rocker canadese prontamente esegue in compagnia solo della propria chitarra acustica. Potrebbe stupire il fatto che il Canada sia capace di regalare i natali al Rock con performer tanto energici e famosi in tutto il mondo.
A molti può venire in mente la famosa gag delle giubbe rosse dei Monty Python ma in realtà non si tratta dell'unico caso.
Basti pensare a Neil Young, Joni Mitchell, K.D. Lang, Robbie Robertson e Leonard Cohen: cosa hanno in comune tutti questi grandi performer?
La ricerca delle radici essenziali della propria musica, come punto di partenza per una strutturazione complessa della propria creatività individuale.
Può sembrare complesso ma nel modo di approcciarsi al rock di Bryan Adams c'è una ricerca filologica costante di quello che è stato il rock dei padri ma anche un senso escatologico su quali lidi raggiungere attraverso la propria musica.
Un insegnamento di vita che anche nella musica ha un suo forte valore: la ricerca della bellezza creativa attraverso l'arte della musica Rock non si inventa ma si ritrova in quello il rock è stato sempre guardando a quello che sta per essere, verso porti lontani o vicini ma comunque raggiungibili.
Photo Gallery Bryan Adams
Roma, 06/12/2022
© Giulio Paravani / ONR