Torna a settembre UNALTROFESTIVAL, il festival a cura della Comcerto a Milano
UNALTROFESTIVAL quest'anno giunge alla sua quarta edizione e torna nella città di Milano con una programmazione senza eguali.
Confermata la location delle prime tre edizioni – il Magnolia Estate, immerso nel verde che circonda l'idroscalo – il festival si sposta a settembre nelle date di giovedì 1 e venerdì 2.
Dopo essersi contraddistinto per originalità e innovazione nelle prime tre edizioni, UNALTROFESTIVAL torna anche stavolta con alcuni degli artisti più importanti della scena indipendente internazionale: headliner delle due giornate saranno infatti Daughter ed Editors.
Tra i grandi artisti che hanno calcato il palco del festival dal 2013 ad oggi troviamo Hozier, Of Monsters and Men, The Lumineers, Tame Impala, MGMT, The Dandy Warhols, Horrors, e tanti altri: adesso è il turno di altri due gruppi interessanti e amati dal pubblico.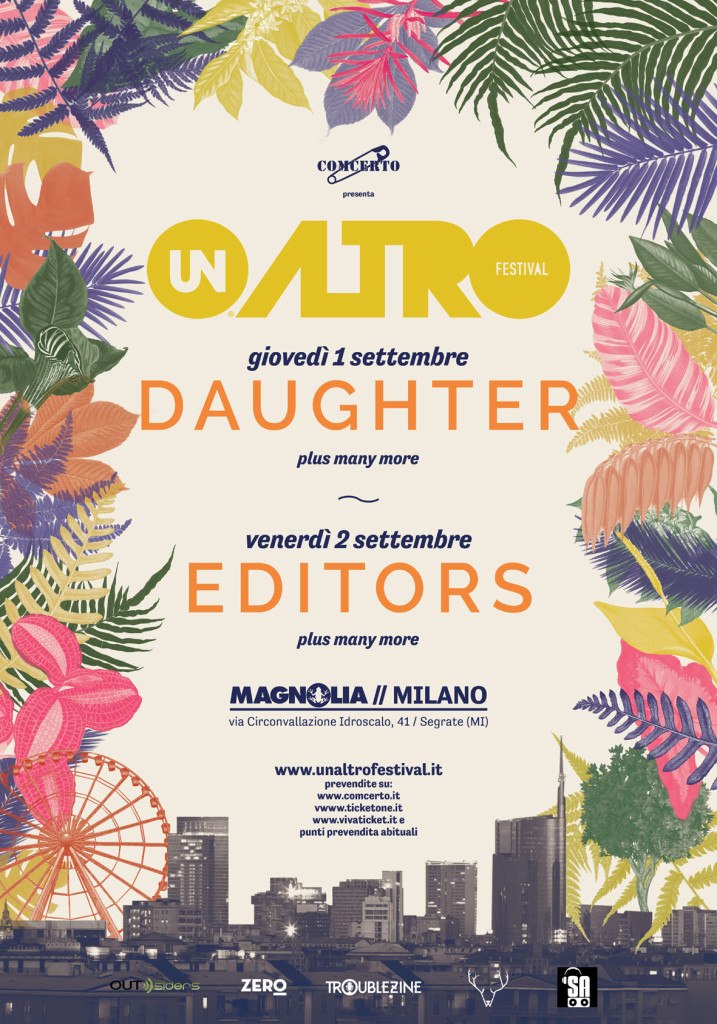 Giovedì 1 settembre // Milano // Magnolia
DAUGHTER + many more
Early Bird Ticket: SOLD OUT
Prezzo biglietto: 30,00 € + d.p.
Prezzo alla cassa: 32,00 €
Prevendite disponibili su www.ticketone.it, www.vivaticket.it, www.bookingshow.it
---
Venerdì 2 settembre // Milano // Magnolia
EDITORS + many more
Early Bird Ticket: 30,00 € + d.p.
Prezzo biglietto: 35,00 € + d.p.
Prezzo alla cassa: 35,00 €
Prevendite disponibili su www.ticketone.it, www.vivaticket.it, www.bookingshow.it
---
ABBONAMENTI disponibili su www.ticketone.it
Early Bird Ticket: 50,00 € + d.p.
Prezzo biglietto: 56,00 € + d.p.
Prezzo alla cassa: 56,00 €