A distanza di due anni e mezzo da The Weight Of Your Love, gli Editors potrebbero essere prossimi alla realizzazione di un nuovo lavoro discografico! Il quinto album di Tom Smith e compagni non è solo in cantiere, ma pare sia già in fase di mixaggio. A darne notizia è la stessa band, dalla sua pagina Facebook.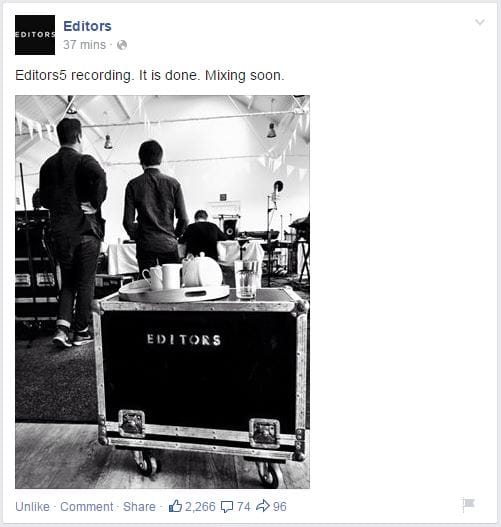 Non si hanno ancora aggiornamenti sul nome, ma si tratta sicuramente di una notizia che farà gioire i molti fan della band di Birmingham.
Abbiamo seguito gli Editors a Roma lo scorso anno, in occasione della loro esibizione al Rock In Roma 2014. In attesa di altre nuove su cosa bolle in pentola, repetita iuvant.
CLICCA QUI per guardare la nostra gallery.
CLICCA QUI per leggere il live report dell'evento.
E perché no (?), godiamoci un vecchio classico.
Guarda il video di The Racing Rats degli Editors.