Niente mode, niente pose, niente pregiudizi: il MAXIMUM Festival 2016 è un appuntamento per gli  amanti della musica "live and loud", musicisti compresi.
Undici live-shows, Lp, Cd e merchandising ufficiale dallo shop itinerante GO Down inclusi i dischi delle distribuzioni Music For People e Goodfellas e ancora la fanzine Vincebus Eruptum.
Tutto dalle 13:30.
Si conferma nel giorno di Pasquetta l'evento appassionato e decisamente elettrico organizzato dall'etichetta indipendente Go Down Records.
Per la sesta volta l'ambientazione del MAXIMUM Festival 2016 è quella bucolica della mitica trattoria Altroquando, che permetterà a chi arriva per pranzo di mangiare tra il verde e i cinguettii: alle 14.00 si accenderanno gli interruttori e la musica suonata diventerà vera protagonista.
Chi c'è già stato lo sa, l'atmosfera di questo festival è informale e la cosa più "rock'n'roll" di tutte è l'attitudine. Niente mode, niente pose, niente pregiudizi, è un puro appuntamento di amanti della musica "live and loud", musicisti compresi. Quest'anno non ci saranno "headliner" veri e propri, ad alternarsi sui 2 palchi avremo tutte band che, col loro percorso indipendente, riconoscono il valore dello scambio e della collaborazione.
Vedremo 5 gruppi con un nuovo disco in uscita su Go Down Records e sono: Pater Nembrot con la loro raffinata miscela di progressive stoner; The Lu Silver String Band fedeli al southern rock ed al soul degli anni '70; Karamazov travolti dall'esplosione noise dei '90; 64 Slices Of American Cheese che ci portano dritti dentro una colonna sonora tex-mex; Ananda Mida che tingono lo stoner di psichedelia.
Poi ancora: Three Eyes Left a celebrare il doom esoterico; l'alternative rock di Mad Dogs; ancora declinazioni dello stoner, che è granitico secondo Pressione Su Malta, o contaminato dall'heavy rock secondo Douge; Mad Fellaz che esprimono il furore virtuosistico del prog; Electric Waters che sono pronti a farci viaggiare tra le spirali dell'acid blues.
Lo staff di Go Down Records sarà presente al MAXIMUM Festival 2016 con lo shop itinerante, in cui trovare i dischi del suo catalogo, quelli della sua distribuzione (Music For People), il merchandise ufficiale, i dischi di distribuzione Goodfellas e la fanzine Vincebus Eruptum.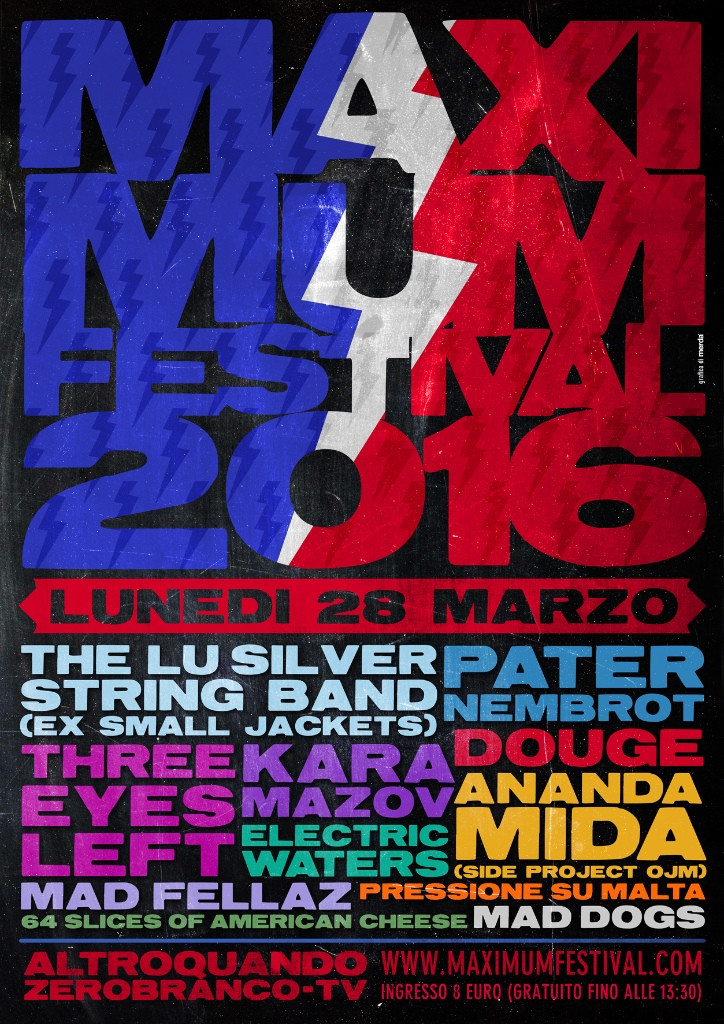 Informazioni:
28 marzo 2016 – Zero Branco (TV), Altroquando
Via Corniani, 32
Orario: dalle 11 alle 23
Ingresso gratuito fino alle 13.30 // Ingresso 8 euro dopo le ore 13.30
Evento Facebook