"Continue as a guest" segna il ritorno in scena della band canadese
Dieci nuovi brani dei The New Pornographers, per la prima volta con la Merge Records
È da più di vent'anni (ventitrè, per la precisione, contando dalla data di pubblicazione del loro primo lavoro nel 2000) che A.C. Newman porta in giro il carrozzone pseudo Pop dei The New Pornographers.
Che, per genesi e modalità, costituiscono una band veramente super partes.
Sin dall'inizio si è trattato di un particolarissimo assemblage di musicisti provenienti da parti diverse del globo (in una intervista recente Newman afferma che quando si sentono o si videochiamano, è spesso un problema perché gravitano su tre fusi orari e migliaia di chilometri di distanza tra Vancouver, Woodstock e Chicago), tutti con progetti paralleli di una certa importanza da portare avanti (Dan Bejar aka Destroyer, Neko Case apprezzata solista già collaboratrice di – tra gli altri – Jakob Dylan e Kathryn Calder degli Immaculate Machine) e con tempi per scrivere, suonare live e dedicare tempo alla sala d'incisione assai limitati.
E nonostante ciò, i Porns il 31 marzo di quest'anno sono arrivati al nono traguardo, perdendosi nel percorso qualche pezzo per strada (Dan Bejar su tutti, già dal 2017, che nel nuovo "Continue as a guest" si limita a cofirmare una canzone, 'Really Really Light'), senza alcuna perdita di smalto, anzi.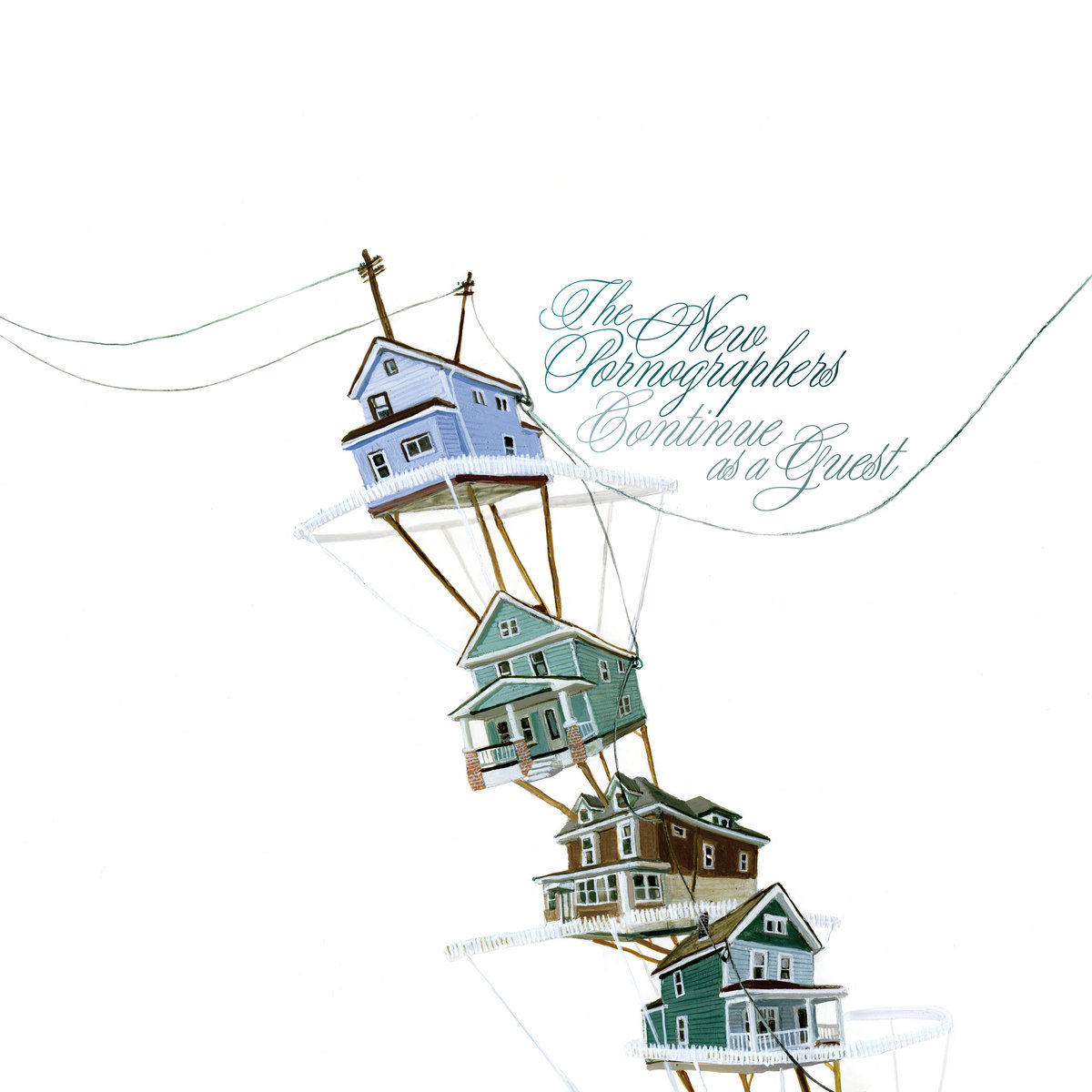 Concepito durante i tempi bui del Covid, il disco è stato battezzato dal Bandleader con una motivazione almeno affascinante: «L'idea di 'continuare come un ospite' mi sembrava molto appropriata per questi tempi. Sentirsi al contempo fuori posto nella cultura, nella società, non sentirsi parte di nessuno spirito del tempo, ma felice di essere separato e vivere la tua vita semplice, la tua lunga dissolvenza. Trova il tuo piccolo spazio, trova uno momento in cui crollare, continua come ospite».
Anyway, spostiamo la mira sui contenuti, e partiamo da un primo assioma: scordatevi le solite ricorsive sui The New Pornographers.
In questo ultimo sussulto il progressivo distacco dalle derive pop tocca il suo punto più alto e, se è vero che il ricorso alle tastiere a scapito di suoni acustici o electrified dilaga in modo massiccio, se è vero che il giochino delle interpolazioni sonore è spesso presente, se è pure vero che l'uso del multi-voice rimane la formula vincente, è pure vero che la cifra di "Continue as a guest" sta nel senso di crisi emotiva presente nel songwriting di Newman.
Il che si riflette anche in un tono musicale più sommesso, creando una atmosfera che offre la sua ricompensa commotiva attraverso gesti sonori flebili, sottili, tenui.
Tutta l'opera si snoda tra momenti dream come 'Really Really Light' e anelli intimisti come 'Pontius Pilate's Home Movies', brani come 'Cat and Mouse with the Light' nei quali emergono le vocalità di Neko Case e le leggere tinte quasi psichedeliche di 'Last and Beautiful', la modalità 'Prefab Sprout' di 'Continue as a guest', il carillon post moderno di 'Marie and the Undersea', ricco di echi folk.
Non trascurando la vera hit del disco, quell''Angelcover' che rappresenta l'unico punto di contatto col passato dei Porns, fatto di power pop ancient regime, tosto ed emotivamente intenso.
Alla fine, un percorso che in alcuni tratti sembra un cunicolo, che se approccerete con le scarpe da ginnastica pensando ai loro vecchi dischi rischierà di portarvi fuori strada. Perché "Continue as a guest" non è sicuramente un disco di canzonette da memorizzare in mezzora, ma una visita guidata dentro l'anima più fragile e disagiata dei Pornographers ma, almeno per me, che rischia di diventare anche la più affascinante.