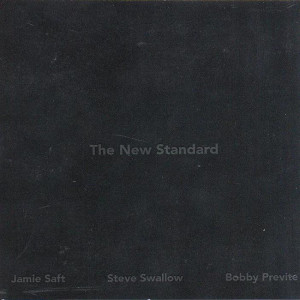 a cura di Francesca Marini
Questo è quello che succede quando tre mostri sacri della musica si riuniscono e decidono di fare un disco insieme.
Il vaso di Pandora esplode, e la bellezza raggiunge un livello superiore che trascende qualsiasi canone e qualsiasi schema.
La perfezione totale.
I tre moschettieri della musica di cui stiamo parlando sono Jamie Saft, Steve Swallow e Bobby Previte, tre colossi del jazz fusi insieme in un solo lavoro.
Perchè è di jazz che parliamo, quello puro, incontaminato, tradizionale, che trova una nuova dimensione cristallina e lucente.
Il fantastico trio jazz però si è divertito parecchio spaziando dal free jazz a sonorità smooth, arrivando a toccare persino il blues e il ragtime.
Ascoltando The New Standard insomma, viene da pensare che forse a quel Jelly Roll Morton brillerebbero gli occhi.
Il disco passa da ballate delicate, introspettive e un po' oscure come la conclusiva Surrender The Chaise, in cui il pianoforte diventa una dolce culla, ad energiche, sincopate e furiose esplosioni intrise di blues come Blue Shuffle, brano divertente e creativo, un po' fiore all'occhiello dell'intero album.
Il pianoforte di Jamie Saft guida e trascina gli altri strumenti perfettamente, affermandosi re incontrastato di questo lavoro a cui però il basso testardo di Steve Swallow e la batteria di Bobby Previte rispondono adeguatamente.
The New Standard ha momenti "classici" sul cool jazz come la title track, momenti tranquilli quasi da piano bar come Minor Soul e momenti intensamente bebop come I See No Leader, traccia eclettica, ribelle e lunatica in cui il piano quasi aggredisce l'ascoltatore.
Il tutto condito con la fantasia e l'estro del free jazz e il calore profondo e indagatore del soul.
Un piano trio eccezionale che ci propone un disco simbolo del jazz contemporaneo, innovativo e tradizionale al tempo stesso. Un'autentica perla non solo del genere, ma di tutta la musica internazionale di oggi.
Semplicemente stupendo.
Il fascino e l'eleganza allo stato puro.