A quanto pare, dopo Hugh Grant in About a Boy, c'è qualcuno che vuole contraddire John Donne: "No man is an Iland", scriveva il poeta in inglese seicentesco; Grant, nel film, lo prende alla lettera fino all'epifania finale, in cui anche lui capisce che sì, nessun uomo è un isola. Eppure i Fatherson non ci stanno, e mettono insieme un album che, effettivamente, ha un qualcosa di nostalgico e melanconico.
Altro prodotto della prolifica scena musicale Glaswegian, il quartetto originario di Kilmarnock costruisce I Am An Island su delle basi solide e anche, se vogliamo, facilmente intuibili: siamo sull'alternative rock, con qualche traccia di scot indie, ma le influenze pop-punk sono fortissime e si sentono. Sarà l'ennesima manifestazione di una tendenza già in atto da un po', e cioè la contaminazione creativa tra l'indie e il post-punk che, se da un lato ti fa sembrare tali gruppi dei discendenti degli All Time Low (potrebbe non essere una cosa buona), dall'altro dà origine a delle band abbastanza energiche ed energetiche da farti ascoltare l'album dall'inizio alla fine e farti anche cantare alcune canzoni ai loro concerti, nonostante si tratti del lavoro d'esordio – in questo caso.
E' così che viene fuori il primo lavoro dei Fatherson: tra una batteria e una chitarra dai suoni simili ai connazionali Biffy Clyro (se i membri avessero poco più di vent'anni), i ritmi e tempi da post-punk dei primi 2000s e i testi riflessivi e quasi intimistici di Ross Leighton. E qualche parola su di lui va spesa.
Leighton è uno di quelli che vedi in un club e, a primo impatto, dici "dio (uno qualunque, per par condicio. ndr) che hipster!". E avresti ragione: camicetta con motivi floreali abbottonata fino al collo, barbone, occhiali grandi,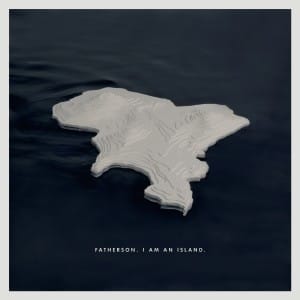 atteggiamento un po' rimesso e timido. Poi lo vedi sul palco, lo senti cantare, e pensi "ok, chissenefrèga". Perché è bravo, non lo si può negare: ha una bella voce, particolare, che riesce a modulare con destrezza; è il maggior contributor alla creazione dei pezzi della band; scrive dei testi in cui, bene o male, ci si può ritrovare. "Half the things in here don't work / But I don't have the heart to throw them out". Ed è così, come lo vedi, senza costruzioni o artifici particolari, elemento che fa di lui un comunicatore sincero ed empatico.
I pezzi più forti dell'album sono, sicuramente, Mine For Me e I Like Not Knowing (anche qui troverete un modello col barbone che corre nella foresta). E An Island fa esattamente il suo dovere, ouverture che sa di manifesto programmatico, facendo capire fin da subito cosa si potrà trovare nel resto del disco. La già citata Half The Things e Lights (che a tratti ricorda Kings and Queens dei 30 Seconds to Mars) sono altre belle perle da ascoltare, ma tutto scorre con relativa tranquillità dall'inizio alla fine. Ecco, forse manca quel qualcosa che non faccia solo scorrere l'album, ma che ti porti ad aggiungerlo direttamente nella tua playlist su Spotify. Ma vabè, è l'opera prima: hanno tempo ed età per limare, migliorare, innovare. Già con un T in the Park alle spalle, raggiunta una maturità un po' più lontana dal teen rock, i Fatherson potrebbero rappresentare un vero game changer della scena musicale emergente in UK. We'll wait for them.