I Cruel Experience sono quattro ragazzi provenienti da Lucca, che con "Lives Of Ugly Demons" giungono alla loro prova d'esordio.
Sette tracce «senza filtri e senza compromessi»: è così che la band descrive i brani del disco, completamente autofinanziato e gestito DIY.
Il sound parte da una corposa matrice punk per poi sfociare in divagazioni che spaziano dalla psichedelia al grunge, e il punto di forza dei Cruel Experience è proprio questo: una varietà sonora che colpisce e lascia il segno, facendo da cornice a testi che raccontano di una quotidianità spesso soffocante e spenta, priva di vie d'uscita.
Ascolta in streaming esclusivo 'Lives Of Ugly Demons' dei Cruel Experience
Siete in partenza per un tour che uscirà dai confini italiani e l'album verrà pubblicato da subito in USA e UK. Avete già mire ambiziosamente espansionistiche, o ritenete di essere più tagliati per un pubblico internazionale?
[EFISIO]: Personalmente sono sempre stato fin troppo poco ambizioso: mi sono sempre dato un sacco da fare nella mia piccola scena cittadina, ed è la prima volta che mi espongo così tanto.
Il coraggio di mandare qualche email all'estero mi è stato trasmesso da Andrea Volpato, colui che gestisce il nostro ufficio stampa (Fox Music Network, n.d.r.): oggettivamente mi ha spesso incoraggiato, suggerendo di mandare il disco all'estero con la scusa che sicuramente sarebbe stato apprezzato.
Così è successo, anche se va detto che anche molte etichette e diversi locali italiani ci hanno apprezzato e aiutato.
"Lives of Ugly Demons (L.O.U.D.)" abbraccia diversi generi, raccoglie le influenze di diversi periodi ed è variabile anche nell'umore, persino all'interno dei singoli pezzi.
Come la spiegate questa necessità di spaziare e coprire un panorama così ampio?
[EFISIO]: Non siamo in grado di dire "ok, ora ci mettiamo lì e facciamo un gruppo simile a…" piuttosto che "facciamo questo genere qui".
Vogliamo sentirci il più liberi possibile, sopratutto il più sinceri possibile: è un fattore molto importante poiché siamo tutti dei grandi ascoltatori e apprezziamo, naturalmente, generi anche molto differenti tra di loro.
Posso riassumere tutto in una sola espressione: ci piace divertirci, non prenderci troppo sul serio.
Siamo solo sinceri, sia che si debba trasmettere aggressività, tristezza o sballo.
Chi ha avuto l'idea di rifarsi al filone dei film horror e delle loro parodie per il video del singolo 'Teenage Smokeland'?
Come mai questa scelta di contrapporre un video dal taglio divertente ad un album che di divertente sembra avere ben poco?
[EFISIO]: Come ho già detto, non ci piace prenderci sul serio: accostare scenari macabri a situazioni comiche ci faceva divertire parecchio e lo abbiamo fatto.
Non sono dell'idea che il disco non abbia nulla di divertente, non siamo poi così tanto depressi: ci piacciono solo i Black Sabbath.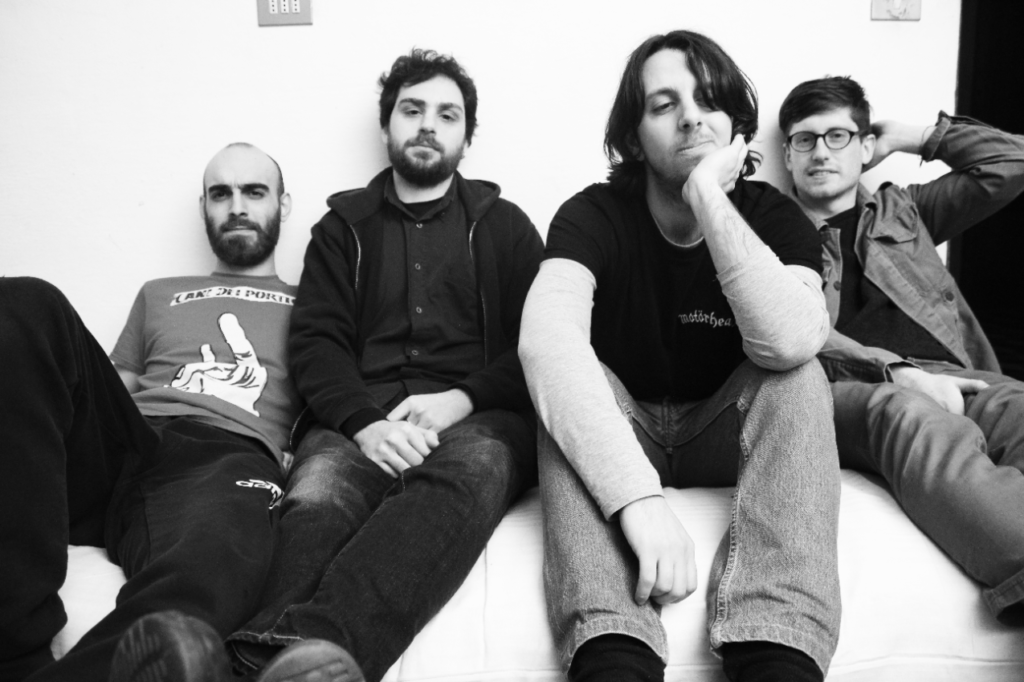 Biografia della Band
Nati a Lucca nel 2013, i Cruel Experience son Efisio (voce/ chitarra), Nicola (chitarra), Andrea (Batteria), Thomas (basso / voce).
Hanno già all'attivo un doppio Ep, "Save the nature, Kill Yourself" (2014, Kat Records) e un tour che in questi anni li ha portati a condividere il palco con band come Jc Satan, Cosmonauts, Go!zilla, Pow!, Giuda e Fuzz Orchestra.