Gli Yo La Tengo non si presentavano a Roma da ben nove anni, e decidono di tornarci il 31 ottobre in occasione del tour di supporto al loro ultimo disco, "Stuff like that there".
Incidere cover di brani altrui è sempre stata una passione non troppo nascosta della band di Hoboken,NJ e l'album uscito nel 2015 ne è una pregevole raccolta -anche di autocover-, che monopolizzerà la scaletta della serata all'Auditorium Parco della Musica.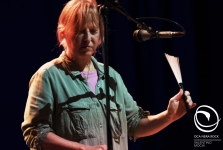 Ma prima una domanda alquanto impegnativa, che mi è stata posta in questi giorni ma a cui non ho saputo mai dare una risposta esaustiva: chi sono gli Yo La Tengo?
È un gruppo che gira da trent'anni senza aver mai ottenuto un successo commerciale colossale, ma che dall'altra parte ha influenzato l'intera scena alternative rock di questi decenni, e numerose band di richiamo li citano tra i loro riferimenti. Dagli inizi di un rock classico con venature country si evolvono verso il noise rock e la sperimentazione, sempre rimanendo nell'ambito di una musica gradevole all'ascolto, per poi intraprendere la strada di un indie più raffinato e ricercato. Con questo stile e questo biglietto da visita si presentano sul palco dell'Auditorium, cornice che si intona perfettamente al mood che imprimeranno al concerto.
La formazione rinnovata degli Yo La Tengo si compone di quattro membri: alla coppia portante Ira Kaplan–Georgia Hubley e al bassista ormai ventennale James McNew, che per l'occasione imbraccia un contrabbasso, si è riaggiunto il chitarrista originario Dave Schramm, dando luogo a un suono ancor più strutturato, che non vuole mai sovrastare le voci ma farle risaltare in alcuni frangenti oppure porsi in alternativa. Originale la decisione di suddividere il concerto in due set di durata simile, quasi fossero due atti: la prima parte è incentrata su brani presi in prestito da altri artisti, da 'My heart's not in it' di Darlene McCrea arrivando alla cover più popolare, 'Friday I'm in love' dei Cure, guidate dalla voce di Georgia Hubley, inframmezzate da brani originali recenti come 'Rickety' e 'Is that enough', in cui è Ira Kaplan a cantare dando un tocco leggermente più sostenuto, ma sempre e comunque in punta di piedi. Il finale del primo tempo è da applausi a scena aperta e da cuori sanguinanti, le due voci si sovrappongono e si mescolano e la loro 'Deeper into movies' come 'A song for you', cover di un pezzo di Gram Parsons, risultano toccanti per non dire struggenti.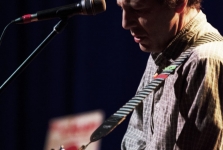 Il rientro in scena degli Yo La Tengo porta invece con sé una serie di pezzi di produzione propria, che sembrano abbassare un po' il tiro e portare lo show su una linea ancora più morbida. Il suono rimane sempre pregevole, le corde delle due chitarre vengono giusto pizzicate e Georgia Hubley accarezza le percussioni senza lasciare impronte, ma questo passaggio pecca un po' in incisività. Tutto questo viene compensato con una chiusura di set da brividi, ripescando nel recente passato con 'Ohm' a proporsi come pezzo più tirato e dal sound più rumoroso dell'intera serata, seguita dall'atmosfera ovattata di 'Our way to fall', che termina con il sussurro della voce di Ira Kaplan a smorzarsi nel silenzio più totale. C'è spazio ancora per un encore, altri tre brani presi in prestito e trattati con i guanti bianchi dagli Yo La Tengo, 'Over you' dei Velvet Underground -con cui questi Yo La Tengo versione 2015 hanno una certa affinità-, saltando al soul-pop delle Ronettes e 'I can hear music' che dà spazio alla voce di James McNew totalmente avulsa dal contesto, e infine un nuovo omaggio al jazz per 'Dreaming' di Sun Ra.
Gli aggettivi per definire gli Yo La Tengo sono innumerevoli come le loro sfaccettature: eclettici, composti, emotivi, capaci di trasmettere una sfilza di impulsi nervosi senza mai dover alzare la voce. Spesso si associa il potersi definire alternative con il mostrarsi trasgressivi, gli Yo La Tengo portano invece a Roma l'alternativa della loro classe.
Photogallery della serata a cura di Valentino Mochi
Ulteriori info sulla serata qui.