Nella composizione del genoma umano raramente si trovano raccolte così tante virtù, tali da rendere un individuo quasi un marziano.
Mi viene in mente un'intervista a Moravia che parlando alla morte di Pasolini, diceva: «abbiamo perso un poeta e di poeti ne nascono 2 o 3 in un secolo».
Ecco, ho scomodato Moravia e Pasolini per dire che nell'assistere ad un concerto di Tommy Emmanuel si ha la netta sensazione di essere alla presenza di un fenomeno raro nel panorama musicale mondiale.
Il concerto del 9 novembre al Teatro Filarmonico di Verona del chitarrista Tommy Emmanuel e del suo amico Jerry Douglas, maestro del dobro, vincitore di 14 Grammy Awards, segue l'uscita dell'album "Accomplice One", in cui suona con la complicità di Mark Knopfler, Jorma Kaukonen e diversi altri big.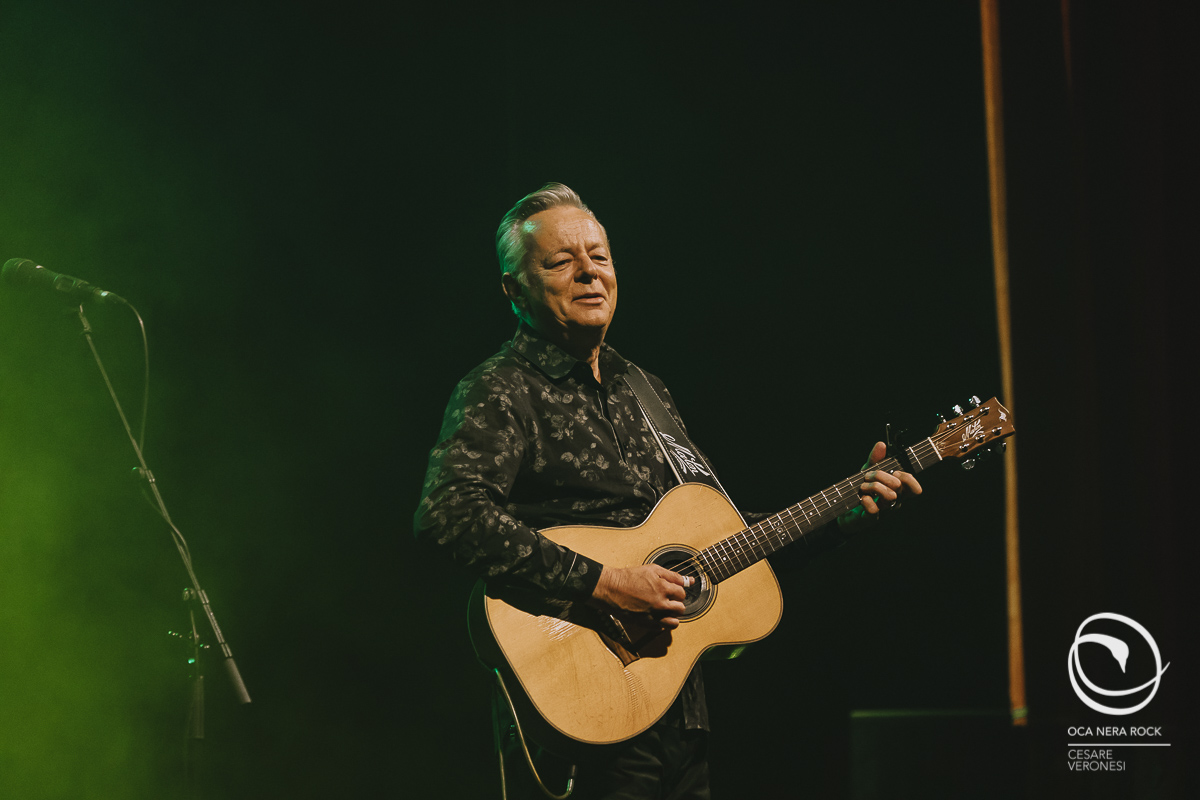 Sfoggia una tecnica incredibile, supportato da un suono curato in tutte le sfumature, dosando reverberi e delay con grande maestria.
Percuote la povera chitarra Marton in un ruolo che non le appartiene, usandola come un set di strumenti a percussione: timpani, congas, rullante, marimba, timbales, tutto concentrato e l'effetto non è quello di un uomo solo sul palco, ma piuttosto di un ensamble, di un numero imprecisato di componenti.
Lui si muove, si agita, si divincola, sotto gli occhi increduli di un pubblico sbigottito, ma non è più un ragazzino, ha 63 anni e a quell'età i musicisti stanno sul palco in modo pacato e attento.
Non è da lui; per circa due ore si propone con la freschezza e la lucidità di un ventenne.
"L'abominevole showman", come lo ha definito il jazzista inglese Martin Taylor, alterna velocità, ritmo, dolcezza e poesia trasmettendo grandi emozioni.
L'inizio è dedicato ad un celebre brano di Rodgers e Hart, 'Blue Moon' – termine usato in inglese per definire un fenomeno raro in natura e sembra quasi un'autobiografia.
Potrebbe stupire il pubblico con la tecnica, ma se ci fosse solo questa "diventerei noioso" e pezzi come questo danno il senso del suo incedere.
In 'Deep River Blues' c'è lo scorrere lento, si respira la storia del blues, un brano che nell'album "Accomplice One" viene eseguito insieme ad un riferimento assoluto del country a stelle e strisce, Jason Isbell.
In 'House Of The Rising Sun', brano che segnò la fortuna dei britannici Animals, inizia un crescendo virtuoso che continua con 'Fuel', brano ispirato al mondo magico e immaginario di Harry Potter, forse l'espressione della sua anima giovanile che tanto ha sofferto per la perdita del padre a soli 12 anni.
Ai Beatles è dedicato un "trittico" che non può non iniziare con 'While my guitar gently weeps', passando poi a 'Day Tripper' e 'Lady Madonna', che Tommy pennella e lega tra loro in modo stupendo.
Nel finale ritorna sul palco il funanbolico Jerry Douglas che aveva aperto il concerto dimostrando la sua grande tecnica alla chitarra resofonica e in duo propongono un finale con pezzi di Springsteen e Hendrix.
Nelle virtù citate all'inizio non si può omettere il suo impegno nel sostenere "Kids Under Cover", associazione che si occupa di assistenza e istruzione per giovani senzatetto che in un momento come questo di rigurgito di intolleranze e sciovinismo, non possono che confermare che siamo in presenza di un campione della musica e della vita.
---
Guarda le foto della serata