Una serata al Fabrique per spezzare con leggerezza la settimana: i californiani Saint Motel si presentano il 21 febbraio in uno dei più importanti locali milanesi con questo proposito, accompagnati nei loro intenti dalla band tutta italiana di Vittoria and the Hyde Park.
L'apertura è molto glamour, e l'impatto a livello di immagine di Vittoria and the Hyde Park è forte: due affascinanti ragazze alla voce e al basso, due prestanti musicisti a completare la line up, una presenza atletica e glitterata, gli occhi sono ben aperti, resta da vedere cosa ne pensano le orecchie.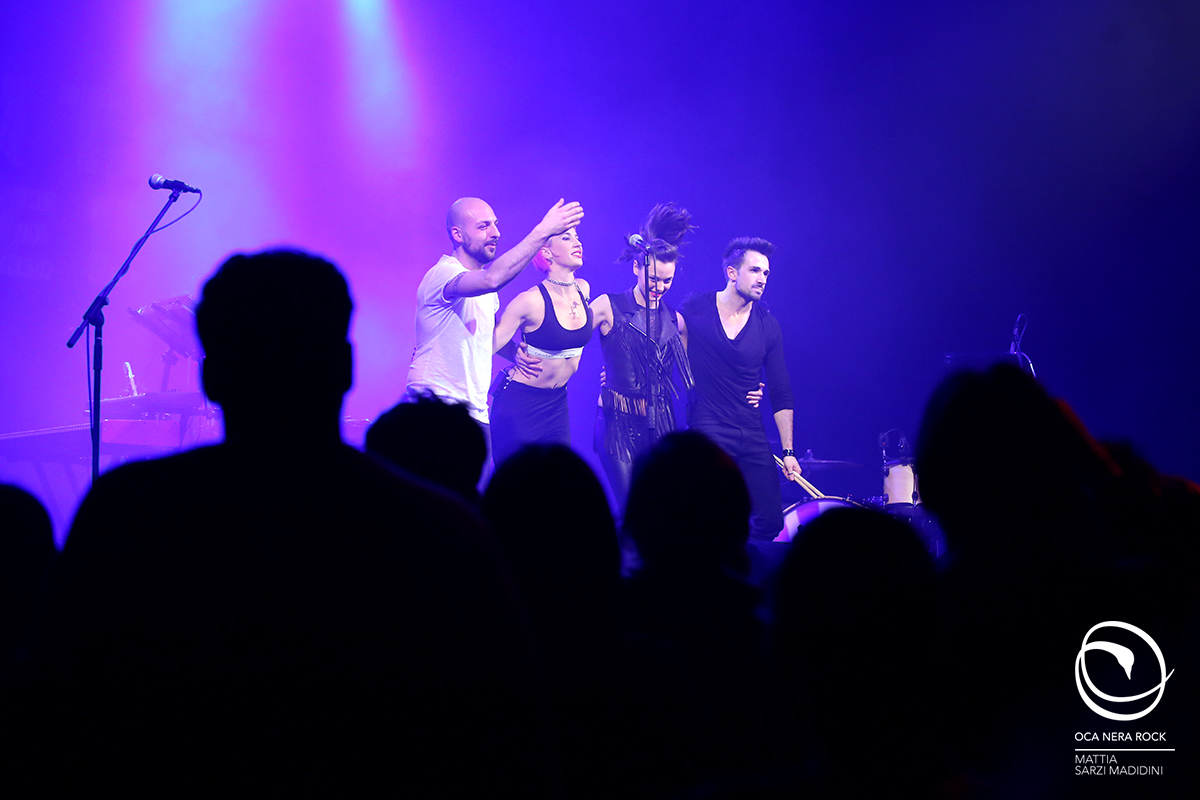 I pezzi sono efficaci e d'impatto, semplici ma non noiosi, e spaziano dal pop rock al dance pop, fino al vero pop di estrazione 80/90, quello da Deejay Television e dal look pettinato. Vittoria Hyde, leader del gruppo, abbina un caschetto fucsia a movenze gattesche, e tiene con enfasi il centro del palco. Dal nuovo singolo 'Let's talk about us', con una chitarra semplice su base sintetica, arrivando a un finale dall'aria di una Hit Mania Dance di metà anni 90, l'intrattenimento che offrono Vittoria and the Hyde Park è ben riuscito e immediato.
Efficacia sembra essere la parola d'ordine anche per i Saint Motel, che partono subito forte.
Atmosfera non proprio sobria, mood danzereccio e via con i pezzoni.
La presenza è importante tanto quanto la musica, il palco sembra enorme ma il vuoto viene immediatamente occupato da A/J Jackson, alla voce e alle tastiere, e dal chitarrista Aaron Sharp. Fanno cose semplici e le fanno per bene, il frontman si concede subito a un bagno di folla in transenna, e l'imperativo viene espresso con un impeccabile italiano con una chiara richiesta, «fate casino».
Divertiti ma abbastanza impostati, usano bene i fiati per alleggerire e sdrammatizzare, riempiendo abilmente il suono e valorizzandolo con una voce inappuntabile.
Il battimani dei Saint Motel è alle soglie dell'abuso, ne troviamo praticamente uno per ogni canzone, quando il ritmo scende ne risentono un po' troppo ma prontamente riprendono un passo veloce che meglio si addice loro.
Anche loro pescano a piene mani dagli anni '80, 'For Elise' è un richiamo sparato agli Wham, mentre per l'encore si presentano con un intro alla Michael Jackson che lancia 'My type', singolo acclamato e accattivante. Si torna in transenna esattamente come si è iniziato, e anche il lento di chiusura non si allontana dal pop di qualche decennio fa.
Una semplicità ben curata per un concerto veloce e divertente, i Saint Motel sanno dove puntare e non fanno cose troppo articolate, il ritorno del pubblico coinvolto e partecipe li premia.
Uno show pop con i giusti riferimenti all'epoca d'oro della musica ruffiana, privilegiando alla sostanza una forma quasi impeccabile.