Maserati a Spazio211, non è una serata normale, è il 14 novembre 2015, il giorno dopo "quel" giorno. Su Torino cala la nebbia e un gelo atmosferico in senso lato. Parigi era ieri, Parigi è vicina e nell'aria aleggiano parole come Bataclan, Eagles of Death Metal.
Poche ore prima i Foo Fighters annullavano il concerto torinese, stessa cosa altri big altrove. Secondo alcuni la scelta ci sta, secondo altri i grandi musicisti e le grandi canzoni avrebbero la responsabilità di aiutare la gente a reagire. Musicisti meno blasonati si esibiscono lo stesso, forse non potrebbero permettersi diversamente, va bene anche così.
I MASERATI appartengono a un'altra categoria ancora, pura musica strumentale, "pezzi" e non "canzoni", non veicolano alcun messaggio particolare se non una botta sonora che si riverbera potentissima nel cosmo, magari soundtrack di distopie sci-fi mai come oggi così possibili.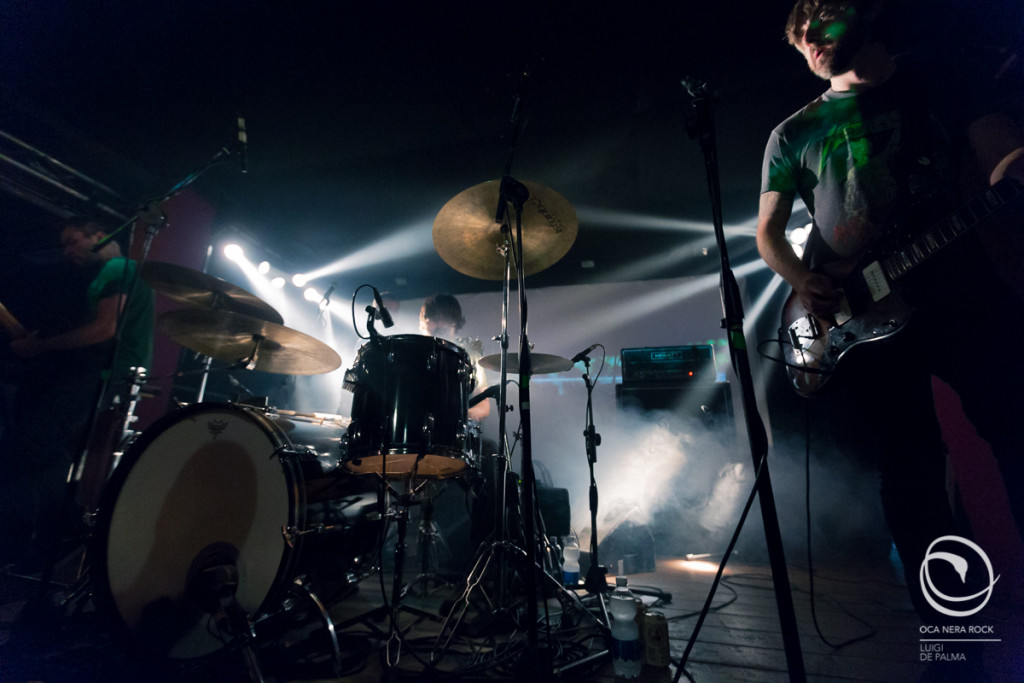 Il loro ultimo disco è "Rehumanizer", titolo che in questo particolare giorno decontestualizzo e liberamente interpreto come un ricordo a riumanizzarci, "restare umani", in un periodo in cui il clamore di stragi disumane rischia di portare reazioni altrettanto disumane e "fallaci". Chiunque, nel piccolo dei propri social network, avrà potuto constatarlo. Vivo l'inizio in crescendo di 'No cave' come un requiem per chi a Parigi ha pagato la colpa di andare a un concerto rock. Gradualmente gli umori più cupi vengono stemperati dalle vibrazioni che i MASERATI generano con chitarre, basso, batteria e programmazioni.
Batteria davanti, Mike Albanese preme il pedale, in qualche minuto ci porta in orbita, e non ha ancora toccato il rullante una volta. Quando lo fa, allacciamoci pure le cinture, davvero non vorrei la mia pelle sia quella di quel tamburo stasera. Dicasi "una bestia", un pugile che mena diretti precisissimi frustando ciocche di sudore.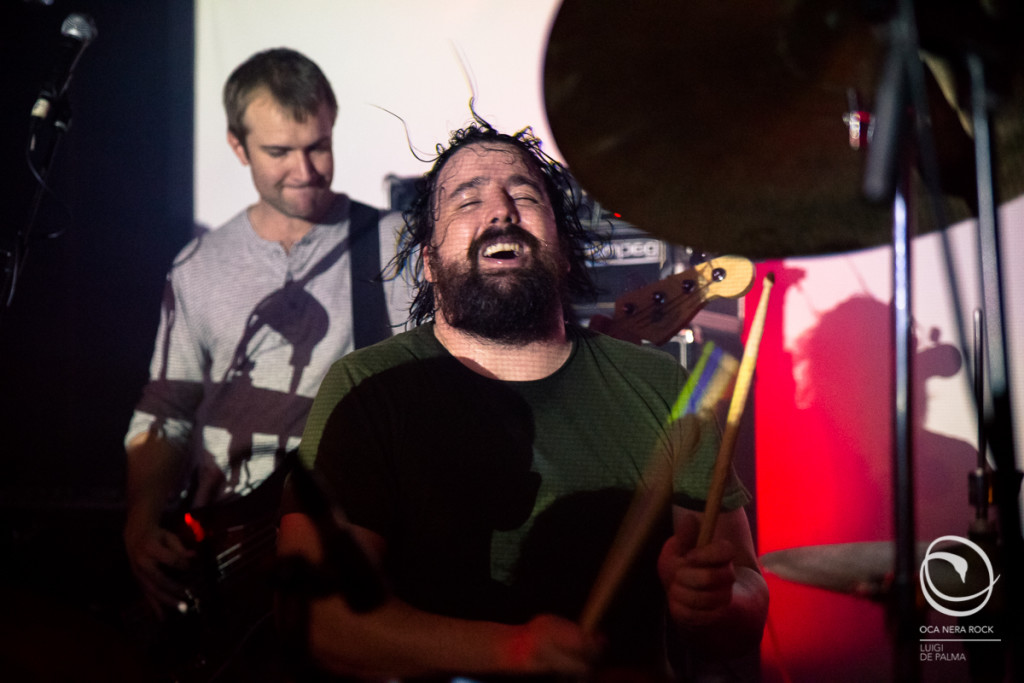 Per quanto riguarda Coley Dennis, Chris McNeal e Matt Cherry, la Fender dovrebbe intitolare un monumento a questi ragazzi per la pasta sonora che esalta i loro strumenti, di quelle che possono certo spostare le scelte d'acquisto, non diversamente dai chitarristi più affermati. Novità: due episodi con la voce, se ne occupano Chris e Coley, dando l'aria di trattarsi piuttosto di un arrangiamento come un altro. L'effettiva "voce" è la chitarra distorta di Coley, valvole, delay, maglietta dei Metallica, and justice for all.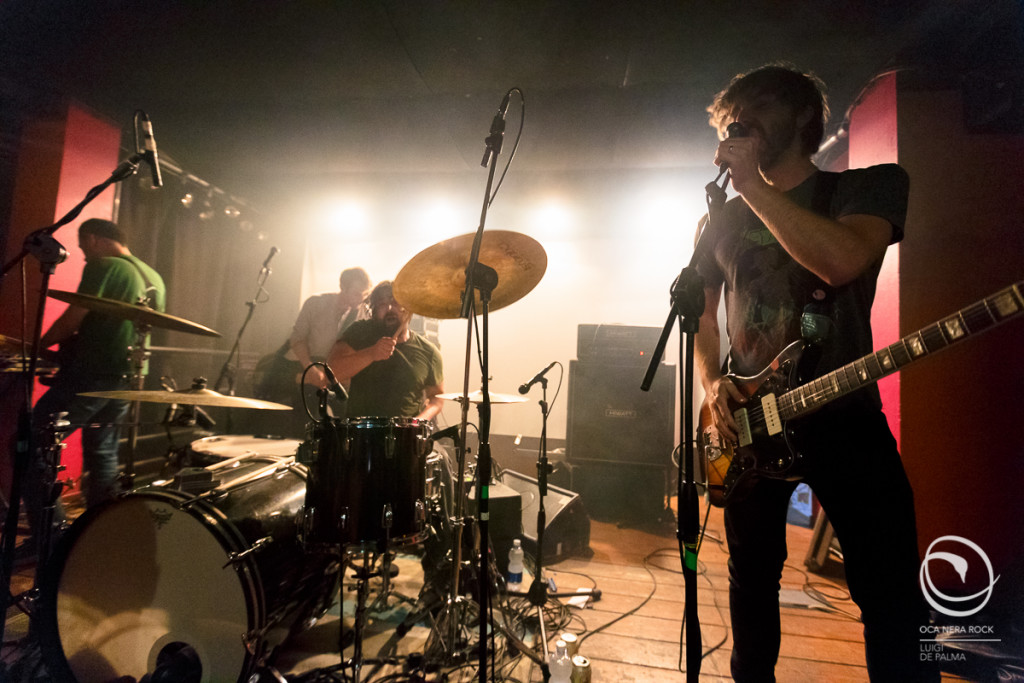 Alta velocità su autostrade soniche, rettilinei prospettici, visual e punti di fuga, marcia in quattro quarti e fuga proprio. I MASERATI sono probabilmente l'unico gruppo al mondo cui nessuno ha mai chiesto "perché avete scelto questo nome?" Più chiaro di così…
La conclusione è più devastante possibile con 'Rehumanizer I' e 'Rehumanizer II'. Non so se muovere il culo o abbandonarmi all'ipnosi o tutte e due. Per esempio, nei locali dove si balla non amo ballare ma sto ad ascoltare il groove in una sorta di contemplazione, qui mi trovo nel mio ambiente ideale.
"Spaccare il culo" è una sintesi abbastanza precisa di quello che fanno i MASERATI. Ci voleva davvero un concerto così oggi, la musica giusta al momento giusto, poche parole, solo suono e catarsi.
Photogallery della serata a cura di Luigi De Palma
Ulteriori info sulla serata qui.