Bologna, 19 giugno 2019
Nella torrida Bologna estiva, trovare refrigerio nei parchi diventa un bisogno necessario alla sopravvivenza.
Fortunatamente, il festival BOtanique, la rassegna estiva a cura dell'Estragon Club, permette di poter ascoltare ottima musica a piedi nudi sull'erba, in un suggestivo parco proprio nel centro città.
Tra i primi nomi in programma la splendida cantante americana Joan Wasser, conosciuta ai più come Joan As Police Woman.
La donna ha alle spalle una carriera quasi trentennale, dove vanta una serie di collaborazioni più che eccellenti: da Elton John a Lou Reed, senza dimenticare il suo violino sia nei The Dambuilders che con gli Anthony and the Jonsons.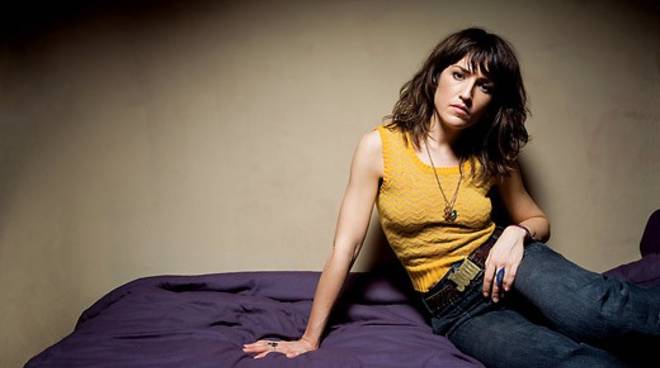 Joan sale sul palco in uno splendente vestito argenteo e oro, che successivamente confessa aver indossato ispirandosi all'attrice italiana Monica Vitti, per la quale nutre profonda ammirazione.
Sul palco si mostra genuina, sorride e arrossisce per i complimenti che arrivano dal pubblico, ma mai timida.
Ha sempre una battuta pronta, racconta le sue esperienze personali legate ad ogni singolo pezzo da lei scritto, anche le emozioni più intime e dolorose, dal suo tour con Elliot Smith alle storie d'amore finite male.
Elogia il romanticismo, parte fondamentale della vita ma soprattutto della musica. Impossibile non pensare che alcune di queste sue dichiarazioni siano collegate alla tragica scomparsa del suo fidanzato Jeff Buckley nell'ormai lontano 1997, anche se lei non ne fa parola.
La scaletta è incentrata principalmente sulla sua ultima raccolta, "Joanthology", uscita a maggio di quest'anno per la PIAS record e raccoglie una serie di suoi classici, da 'Human Condition' alla celeberrima 'The magic'.
La costante è la semplicità della sua musica, anche negli accordi, che accompagnano perfettamente una capacità vocale impeccabile e profonda, resa ancora più intensa dal suo modo di raccontare le vicende quotidiane, denotando una sensibilità fuori dal comune.
Semplicità è anche la parola chiave del palco, sul quale sola, alternandosi tra piano e chitarra, lascia che solo la sua splendida voce ne faccia da padrona, senza alcuna distrazione esterna.
Sul finale, si presta ad una ballabile e divertente cover di 'Kiss' di Prince, che il pubblico esalta enormemente.
Ammaliante, ipnotica e intensa, Joan Wasser riesce a creare un'intimità col pubblico che ti lascia un po' spiazzato, come se lei stesse suonando da sola in una stanza dove tu sei l'unico spettatore.
Sarà stata anche la location, intima e tranquilla, che ha permesso la creazione di un'atmosfera quasi familiare, che ci ha regalato proprio quella magia lì, come il suo celebre testo descrive.