Milano, 30 novembre 2019
Erano gli inizi degli anni Duemila, qualcuno iniziava a mescolare il disinvolto spirito indie di quel periodo con la musica elettronica, e gli Hot Chip c'erano.
Ci sono anche in questo novembre all'Alcatraz di Milano, qualche anno in più, qualche disco in più, una notevole popolarità in madrepatria, in Inghilterra, un album nuovo intitolato "A bath full of ecstasy" pubblicato prima dell'estate.
In questa unica data italiana, gli Hot Chip cercheranno di trasformare il sabato sera milanese in una festa.
Dopo l'apertura degli Alaskalaska, l'intera squadra degli Hot Chip entra sul palco in una tempesta stroboscopica, attaccando a ritmo con le tastiere che affondano e la voce piena di Alexis Taylor. Prendono presto quota con un pop sintetico festaiolo e balneare, dalle marcate velleità retrò, dilettandosi con tonalità di basso estremamente profonde.
È con questa direzione, con suoni compressi e discendenti, che viene rielaborata 'Night and day'.
'Bath full of ecstasy', quasi-title track dell'ultimo disco degli Hot Chip, ha più respiro e un po' meno effetti, mentre 'Flutes' alza il tiro con un lento tripudio suggellato dalla coreografia da videoclip -ah, quant'erano belli i videoclip degli anni 2000!-.
In ognuna di queste varianti, c'è una precisa e ragionata attenzione e sovrapposizione delle singole piccole parti individuali che danno forma nel loro complesso ai pezzi.
Non solo spinta e ritmo, per intenderci.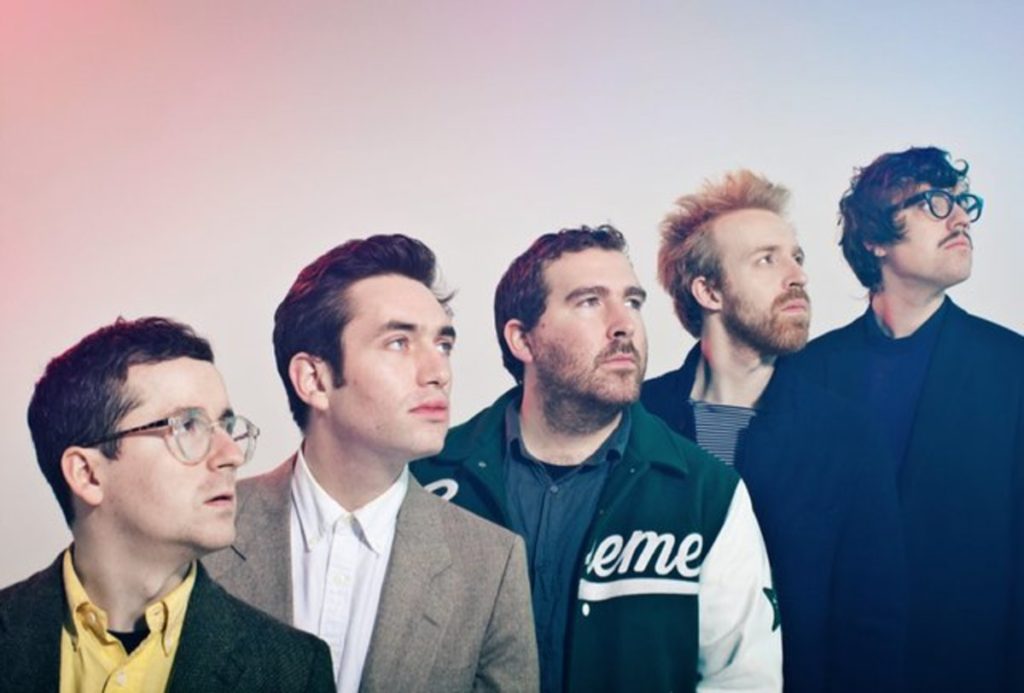 Quando gli Hot Chip prendono un incedere più morbido, la voce di Alexis Taylor svetta con intensità e pulizia e pochissimi effetti, ma si sa poi mettere da parte quando l'intensità si fa più consistente nel ritmo e si spinge forte.
Vediamo le chitarre che spariscono completamente dalla scena, e che poi rientrano prepotentemente in quantità e con qualità consistente.
Per i brani più popolari e d'impatto, la direzione presa è quella della rivisitazione sofisticata: 'Over and over' è più raffinata e meno spinta, anche se ugualmente coinvolgente e travolgente, e 'Ready for the floor' chiude con spirito funk, deprivata dei bassi compressi e caricata sulla voce e sui timbri alti, più mescolata e meno agitata.
Il rientro è soft, con la chitarra di 'Look at where we are' che elargisce sentimentali accordi da ballata.
Ma è una falsa pista da parte degli Hot Chip, perché veniamo destabilizzati dalla spettacolare cover di 'Sabotage' dei Beastie Boys, che mette in mostra doti rappatorie insospettabili e assolutamente degne di nota su una batteria di chitarre spianatissime.
È un momento serissimo e dissacrante al tempo stesso, che sfuma sui colori più tenui e sulle tonalità danzerecce di 'I feel better', che col contrasto tra alto e basso della doppia voce in chiave melodica ci accompagna all'uscita.
Tra agitazione, sentimentalismi e sparate isteriche, possiamo dire che è stata davvero una strana e divertente festa, con questi Hot Chip forieri di sorprese.