Bologna, 5 febbraio 2020
In onore del ventesimo anniversario del loro primo lavoro, i pilastri del post-rock Explosions in the Sky hanno organizzato un lunghissimo tour, che li porterà a suonare in tutti i continenti.
Per l'Italia sono state annunciate due date, 5 febbraio Bologna e, successivamente, Milano.
La venue scelta per Bologna, in collaborazione con quei buongustai del Covo Club, è a dir poco perfetta: il Teatro Duse, un piccolo ma elegantissimo gioiellino celato tra i portici della città felsinea.
Il sold out, annunciato poche ore prima del concerto, è sintomatico di una serata coi fiocchi.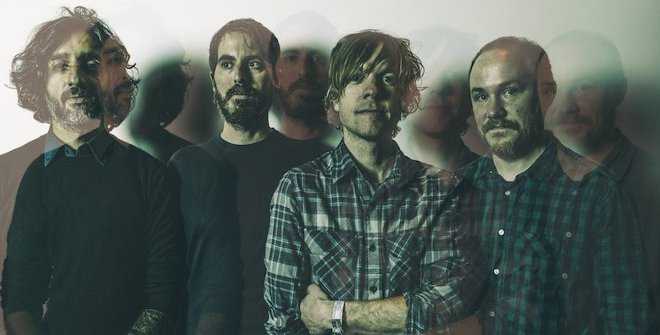 Il quartetto texano, composto da due o eventualmente tre chitarre (perché talvolta si sposta al basso) e una batteria, suona per una splendida ora e mezza, proponendo tutto il disco che li ha portati al successo internazionale: "How strange, Innocence".
'A song for our fathers' parte lenta, come nel disco, ma esplode nel teatro, grazie ai riverberi delle chitarre e alla batteria, che ricorda vagamente una marcia militare.
I suoni malinconici vengono eseguiti alla perfezione, aiutati dal fantastico gioco di luci che illumina il teatro e che segue perfettamente le melodie.
Anche in 'Snow and lights' il palcoscenico è quasi sparito alla vista, sommerso dal fumo e dalla luce, permettendo al pubblico di immedesimarsi ancora di più in quei lenti arpeggi.
Non sono mancate, inoltre, delle chicche dagli album successivi, come ad esempio 'The only moment we were alone' da quel capolavoro di disco che è "The heart is not a cold dead place", uno dei miei preferiti in assoluto.
La caratteristica principale degli Explosions in the Sky è che possono essere considerati dei puristi del post-rock, perché i loro suoni non sono mai stati contaminati dall'elettronica come spesso succede in questo genere, ma continuano a far parlare sempre e solo le chitarre.
Inoltre, sarà stata anche grazie all'ottima acustica del luogo, tutti le melodie suonavano potentissime, senza mai perdere in nitidezza, sintomo anche dell'elevato talento degli artisti.
Infine, si può dire che non esiste posto migliore per un concerto di questo genere che un teatro, un luogo intimo e raffinato, dove puoi godere dello spettacolo comodamente seduto sulle poltroncine.
Direi quasi che il teatro sta al post-rock come il cacio sui maccheroni.
---
Vuoi vedere le foto della serata?
Clicca qui.