Il 5 marzo l'immenso "S.P.A.C.E. Tour" dei Calibro 35 ha portato la band in Toscana, dove, nella cornice del The Cage Theatre di Livorno, una sala piena non ha potuto far altro che emozionarsi di fronte alla loro maestria.
A scaldare la platea ci avevano pensato già i bergamaschi Le Capre a Sonagli, catalizzando l'attenzione anche dei più diffidenti con il loro sound potente ed originale, a cavallo tra psych rock e blues. La ricerca di sonorità caratteristiche è evidente: il gruppo si concentra al massimo sul creare atmosfere, spesso anche molto diverse a seconda del pezzo, complici linee di basso travolgenti, una potenza e una precisione non indifferenti del batterista e distorsioni a non finire prodotte dalla chitarra elettrica.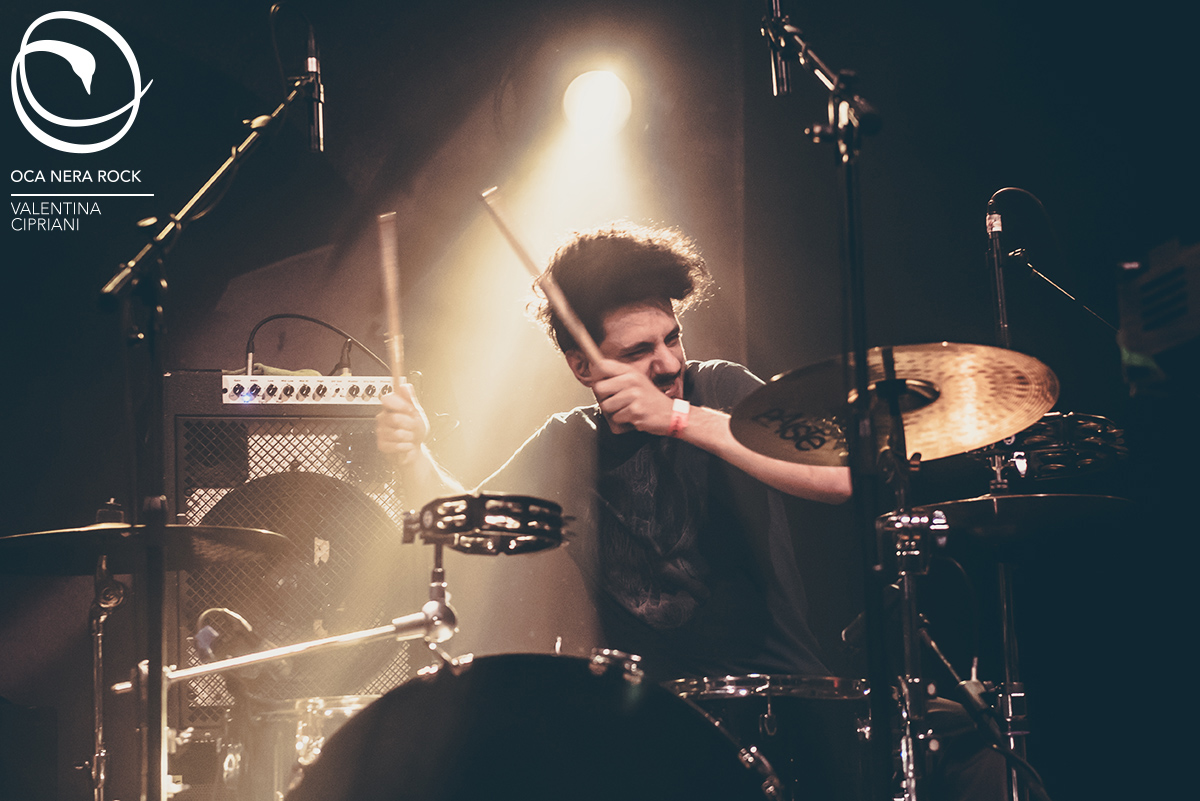 Dopo aver ballato con Le Capre a Sonagli, finalmente la scena è tutta per i Calibro 35, che ci regalano uno spettacolo impeccabile.
Lo sguardo che si leggeva negli occhi dei presenti mentre Luca Cavina (basso), Enrico Gabrielli (organi e fiati), Massimo Martellotta (chitarra elettrica e tastiere) e Fabio Rondanini (percussioni) suonavano, sbagliando praticamente nulla, era di totale adorazione. La loro naturalezza nel tirar fuori suoni impeccabili per brillantezza e intensità, come se stessero scartando una caramella, è in grado di dare una spinta e un insegnamento a chiunque, interessato di musica, li ascolti: non si può far altro che alzar le mani.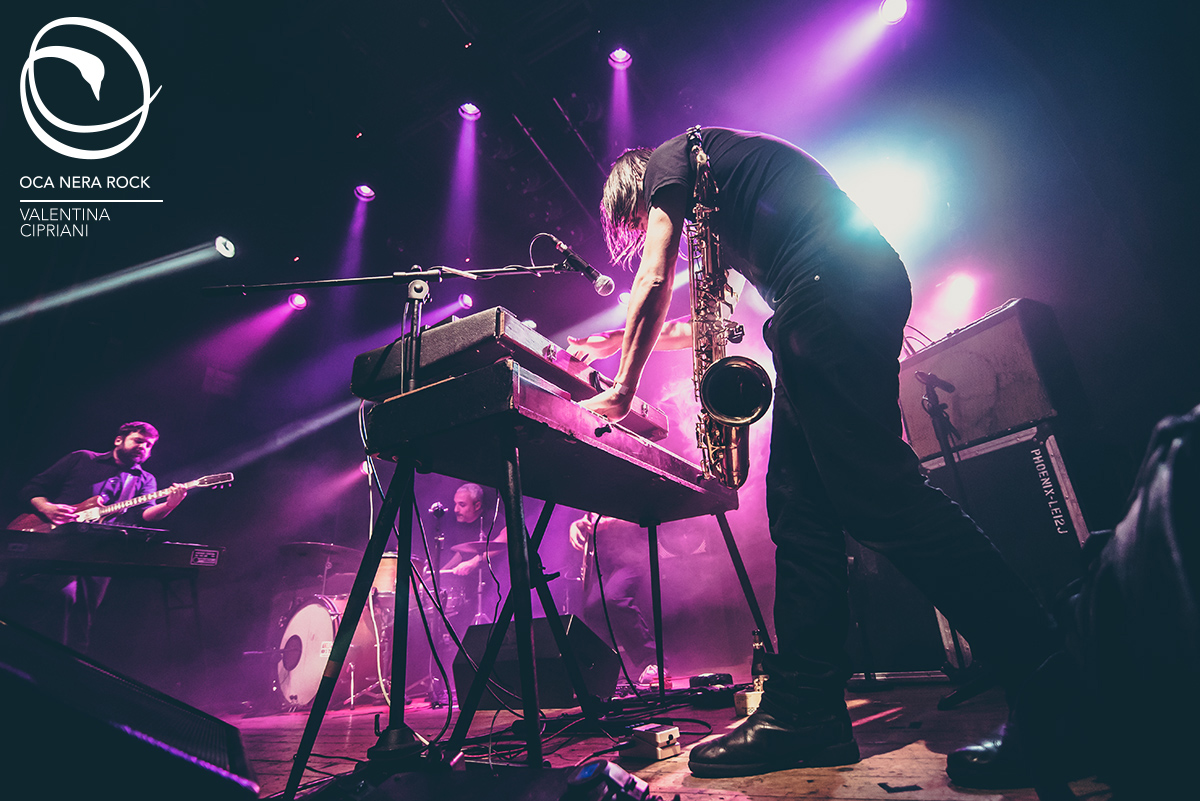 Impressionante la capacità di controllare ogni singolo dettaglio per un'ora e mezza: Gabrielli passa con disinvoltura da un sax a un flauto traverso, per tornare poi a far uscire da quegli organi un suono psichedelico e inconfondibile, mentre il batterista con una strumentazione minima fa magie, calibra alla perfezione ogni tocco, sa essere lieve e deciso nel momento giusto, sempre. La brillantezza della chitarra elettrica e il suono pieno e dei bassi ci trasportano definitivamente nello spazio con la band,  avvolta da un'atmosfera siderale e suggestiva, tra giochi di luci a tratti freddissime.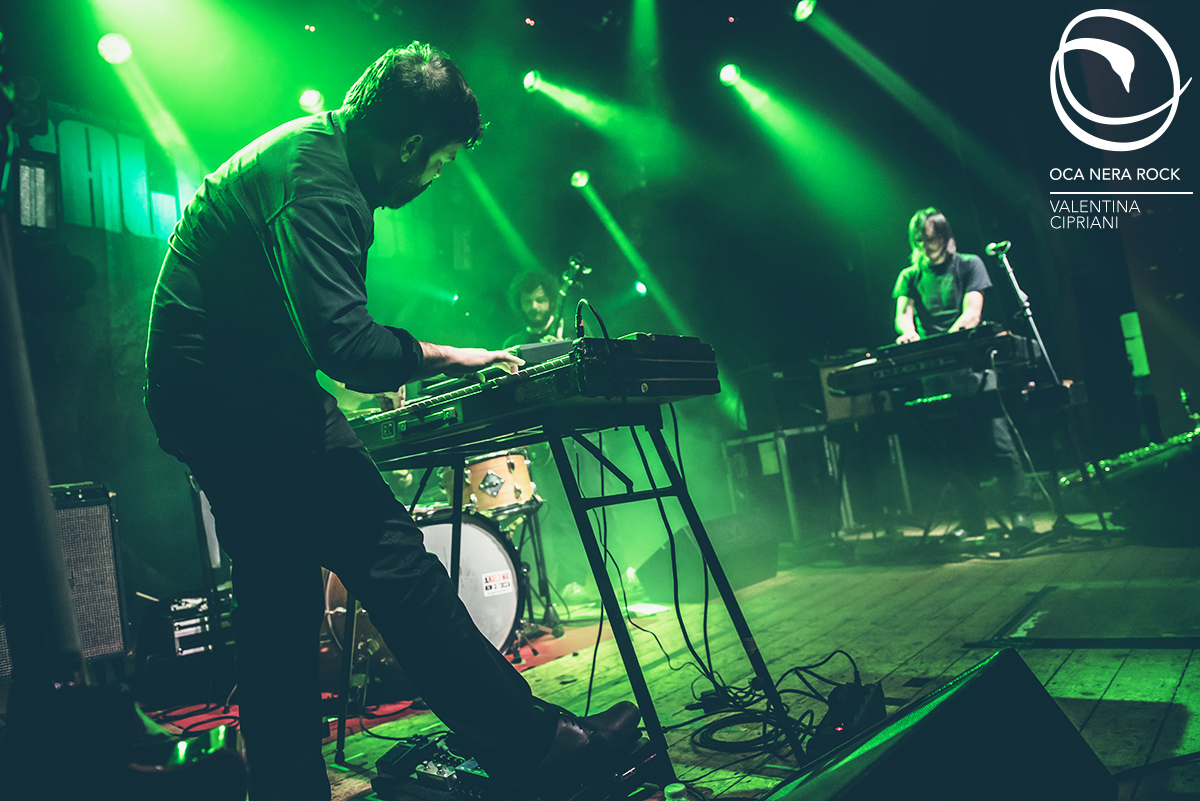 Quando sulle note di 'Stainless Steel' – ultima scarica endovena di adrenalina pura – i Calibro 35 chiudono il concerto, ci si risveglia da questo sogno infinito con la sensazione di aver imparato qualcosa, di aver assistito da un prodigio che è un crimine tener nascosto. Io, come credo la maggior parte dei presenti, mi sono domandata come sia possibile che l'esperienza e le capacità di questi grandi artisti restino sconosciuti ai più. Lo Space Tour sta portando la band ad esibirsi nei locali più importanti dello stivale, nonchè all'estero, e di questo possiamo solo rallegrarci. Sembra però insufficiente, sembra riduttivo pensare che la maggior parte delle persone che potremmo fermare per strada non sa quale contributo questa band sta dando al panorama musicale italiano, alla nostra cultura e alla nostra arte.
Forse a farci prendere il mal di cuore sabato sera al The Cage Theatre eravamo pochi, troppo pochi per quel che questa band meriterebbe, ma forse la spiegazione è che non è musica per una società cardiopatica, allergica alle emozioni dirompenti.
Puoi vedere la gallery completa della serata qui.