Data unica italiana, l'11 luglio, per Albert Hammond Jr. a Milano.
Il Circolo Magnolia di Segrate ospita il concerto del musicista americano, noto nel mondo dell'indie rock per il suo ventennale ruolo di chitarrista dei The Strokes.
Da moltissimi anni, in parallelo all'attività con la band newyorkese, Albert Hammond Jr. ha intrapreso un percorso solista, con il quale ha pubblicato quattro album di discreto successo, l'ultimo dei quali intitolato "Francis Trouble" e uscito a marzo di quest'anno.
Dopo l'apertura affidata ai Dead Visions, con un'introduzione in stile americano e in un muro di luci rosse salgono sul palco Albert Hammond Jr. e i quattro elementi della band che lo accompagna. Indossa un giubbotto da high school team di football ed entra subito in modalità intrattenitore. L'attacco di 'DvsL' impiega giri di chitarra perfettamente riconoscibili e che richiamano il suo percorso musicale, la voce è inscatolata e non sembra brillantissima, e si limita per ora a imbracciare il microfono. Gli echi sono quelli di un pop facile, vestito di un timbro indie di altri tempi, nei pezzi sostenuti come pure in quelli lenti come 'Set to attack'.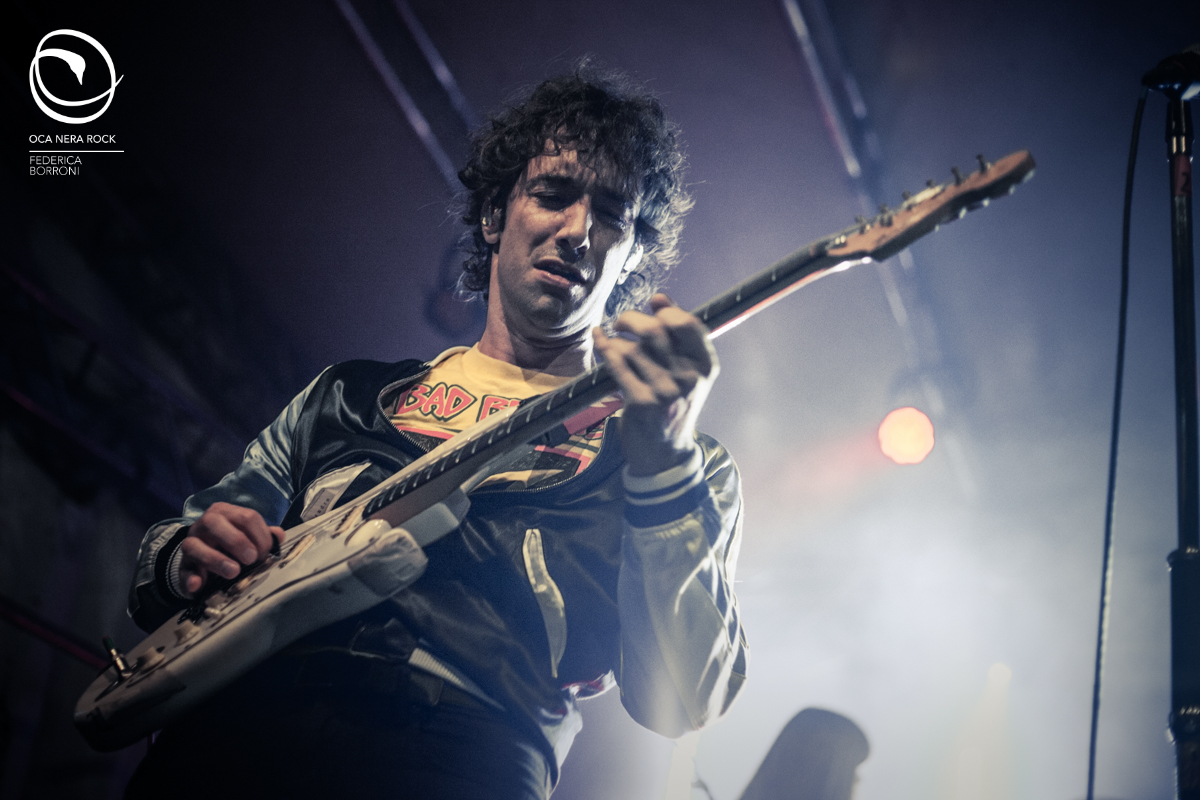 Abbiamo giri di chitarra lunghi ma non elaborati, quasi alla stregua di scale, mentre la voce di Albert Hammond Jr. è mutevole e viene guidata dagli effetti di volta in volta utilizzati. Questo concerto è rivolto a noi che nel 2001 ci esaltavamo con "Is this it" e che amavamo The Strokes e tutti i gruppi che ci andavano dietro. Da allora non abbiamo mai trovato pace, e in fondo mai ne troveremo, ma questa immersione di nostalgia ci dona un po' di conforto e un sorriso velatamente malinconico. Torna a ricoprire il ruolo che più gli si addice, imbracciando la chitarra.
'Holiday' è ricca di basso, 'Strangers' molto ammorbidita nei toni, con 'Side boob' parte lo show di Albert Hammond Jr. che scende tra la folla a saltare, da destra a sinistra e poi giù fino in fondo. Si passa a brani tranquilli e con un incedere più lento e si torna poi a un brio diverso, con pezzi rapidi, dal passo breve e chitarre più interessanti. Si chiude il set ripescando da "Yours to keep", orecchiabilissimo e gradevole disco d'esordio solista del 2006: prima 'Everyone gets a star' e poi l'accompagnatissima 'In transit'.
Il rientro per l'encore è più spinto, preannunciato dalla batteria aggressiva e rafforzato da chitarre energiche. In solitudine, Albert Hammond Jr. propone 'Blue skies' come ballatona elettrica, prima di riprendere quota per il finale, ondeggiando sui ritmi sostenuti e romantici di 'Muted beatings'.
Un concerto piacevole, per uno sguardo al passato senza troppe preoccupazioni e pensieri, un'oretta abbondante di disimpegno accompagnati da chitarre dai suoni confortevoli e che ci danno una parvenza di gioventù.
Grazie, Albert Hammond Jr., per averci regalato un po' di divertimento postadolescenziale.
---