Si è conclusa ieri sera, tra una goccia e l'altra di pioggia, la rassegna Settembre // Prato è Spettacolo, che ha portato numerosi artisti di grande prestigio, del panorama sia italiano che internazionale, ad esibirsi nella suggestiva cornice di Piazza Duomo, nella città toscana. Il 6 settembre sono stati gli AIR a calcare il palco per ultimi, portando sulla scena uno spettacolo minimalista ma efficace, con una precisione chirirgica e una intensità degna della loro lunga esperienza. Anche l'opening si è rivelato essere di alta qualità, affidato ai britannici Public Service Broadcasting che non hanno deluso le aspettative.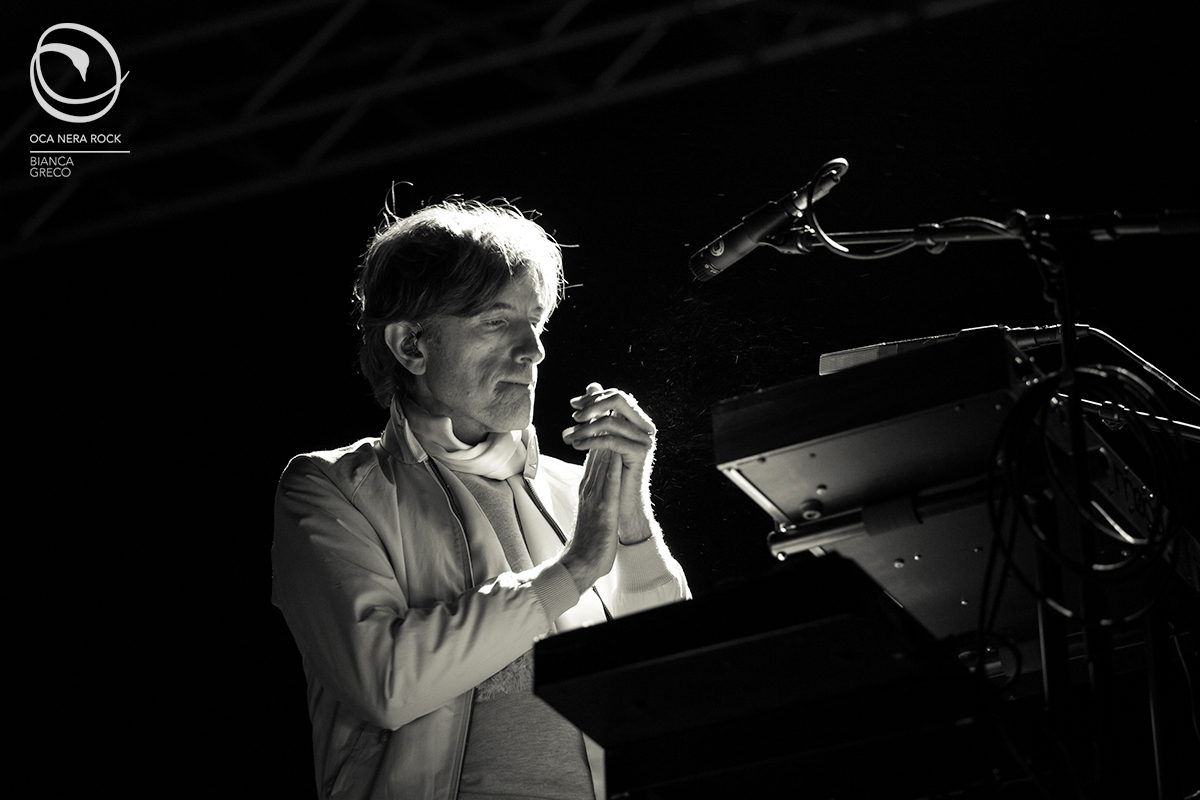 Il concerto inizia in perfetto orario e, non appena i tre inglesi salgono sul palco, catalizzano subito la mia attenzione per l'incredibile coraggio nelle scelte sia musicali che "registiche" compiute nella messa a punto di uno spettacolo poliedrico, che non lascia nulla al caso. Non ci vuole un genio per capire che i Public Service Broadcasting sono più di una buona band, connubio elegante tra elettronica ed indie rock. Questi ragazzi hanno una visione artistica totale, una mappa dettagliata delle proprie influenze, dei propri obiettivi, in cui sanno collocarsi con precisione. Grazie ai video proiettati su uno schermo posizionato al centro del palco, assistiamo ad un momento intellettualmente elevato di vera creatività, in cui i tre sono in grado di far fondere immagini e musica in una sinfonia di emozioni. Emerge fortissima la loro identità artistica nonchè individuale e la loro bravura nel raccontare una modernità che li intriga e li imbriglia. Con una scaletta ben costruita, in cui figurano i loro pezzi più noti, tra cui le esoplosive 'Go!' e 'Gagarin', i Public Service Broadcasting si mantengono distaccati dal loro pubblico e scelgono di far parlare una voce registrata, sempre a testimoniare la loro appartenenza ad una umanità tecnologizzata ma che cerca di non diventare sterile. L'atmosfera nonostante ciò è, infatti, intima e accogliente, ed il concerto si conclude con grande rammarico del pubblico, che però non vede l'ora di abbracciare le atmosfere morbide e delicate degli AIR.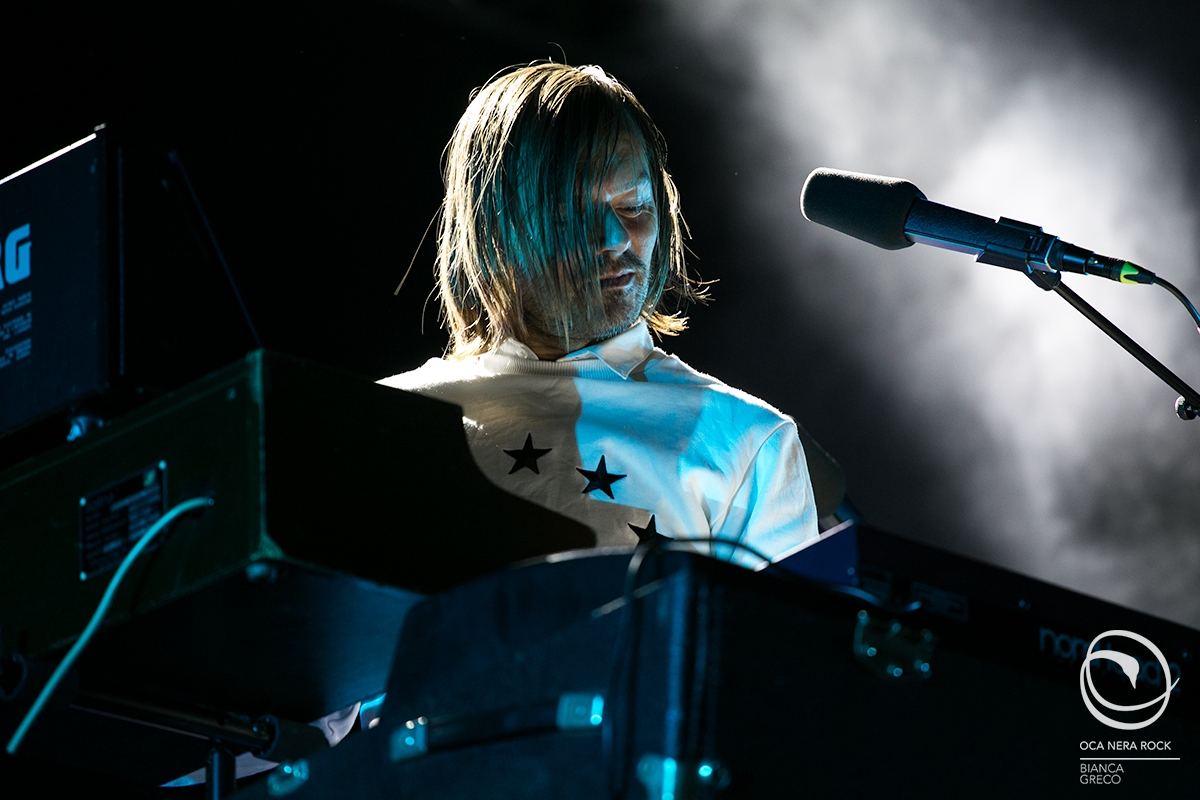 Il noto duo francese si presenta sul palco in formazione a quattro, accompagnato da un batterista ed un secondo tastierista, mentre i due fondatori si destreggiano con maestria e una certa nonchalance tra synth, tastiere, chitarre, banjo, basso e quant'altro. Non si può certo dire che gli AIR siano degli animali da palcoscenco: quasi immobili nelle loro postazioni, come se non suonassero per alcun pubblico, snocciolano una dopo l'altra le canzoni di una scaletta di altissimo livello che pesca alcune perle dall'immortale capolavoro Moon Safari (1998), come 'Kally Watch The Stars' e 'Sexy Boy', impreziosita da una tastiera dal suono squillante e deciso, una melodia accattivante supportata da un'armonia radicata nel terreno. Ascoltiamo anche brani tratti da album come 10 000 Hz Legend – 'How Does it Make You Feel?' e l'eccellente performance di 'Don't Be Light' – passando per la versione strumentale della famosa 'Playground Love' e quel trionfo di suoni metallci, scintillanti e a tratti cavernosi e rimbombanti che è stato 'Alfa Beta Gaga'. Questi alieni vestiti di bianco, atterrati in Piazza Duomo per regalare le loro atmosfere lunari e sinistre ad un pubblico estasiato, riescono a costruire uno spettacolo di intensità ragguardevole con l'aiuto di specchi sul fondo del palco e poche luci essenzali, giochi di forme geometriche e fasci di luce bianche come lame affondate nella carne. Il suono è perfetto, sa essere metallico e distorto al punto giusto, con il supporto di una linea di basso martellante e intensa. Nonostante l'aria da extraterrestri, le sonorità costruite dagli AIR sono calde ed umane, arricchite da un senso della melodia concreto, che fa impallidire, con buona pace dei Public Service Broadcasting, chiunque abbia mai suonato anche solo mezza nota. L'andatura precisa e metronomica del batterista conferisce ritmo, umanità e profondità al suono finale. Il suo modo di agitarsi, di suonare col sangue, a dispetto dei due francesi che arrivano alla fine del concerto quasi senza essersene accorti, ci conferma che anche gli AIR sono umani: mangiano, dormono e bevono. Se non fosse stato per lui forse ci saremmo aspettati di vederli smontarsi come dei robot alla fine del live.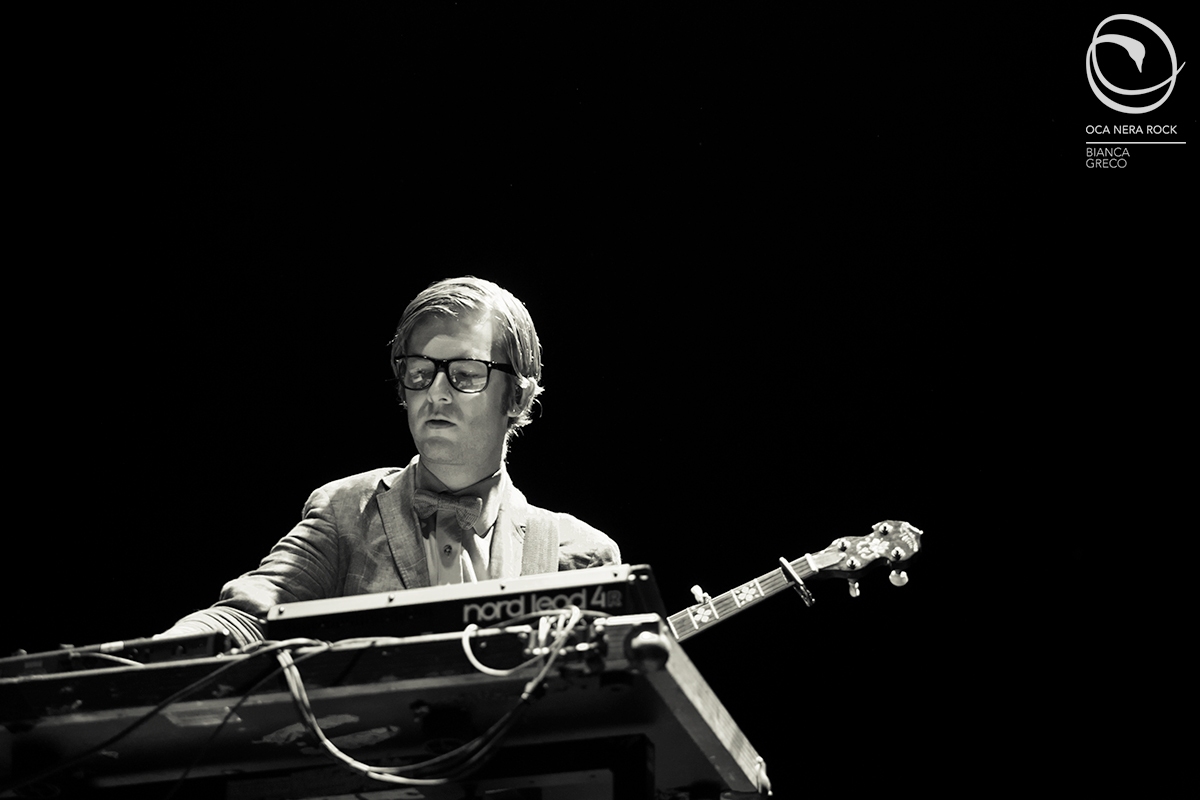 Senza dubbio il filo conduttore della serata è stato il cielo: quello sopra di noi che minacciava pioggia, quello esplorato dai Public Service Broadcasting alla ricerca della loro Race For Space, quello che ci hanno fatto toccare con un dito gli AIR con la sensazionale performance regalataci. La rassegna Settembre // Prato è Spettacolo si conferma così uno degli eventi più interessanti e competitivi di quest'estate toscana, capace di regalare tante gioie ed emozioni semplici e genuine.
Vuoi vedere la gallery completa?
Clicca qui