Gli Afghan Whigs ospiti alla Biennale di MarteLive
Un concerto in continuo crescendo per gli americani, live al Largo Venue di Roma
Paura, solo paura.
Paura che quel palco sul si riveli uno specchio senza cuore.
Paura che possa essere l'ultima sera in cui tu possa raccontare a te stesso la vecchia, ma sempre valida, cazzata del rock che mantiene giovani.
Paura possano bastare l'acquisto una biografia di qualche attempata ex maledetta star che sta invecchiando nella sua villa con 100 ettari di parco intorno, l'idea di farti i dreadlock, un orecchino un po' più vistoso del solito, le abusate giacche di pelle per illuderti di aver mostrato il dito medio alla carta d'identità ancora una volta.
Paura di ritrovarti circondato da centinaia di reduci come te, con l'unica, magra consolazione, di qualche capello in più.
Paura di ritrovarsi invece a dire a te stesso, "vabbè, adesso basta, domani ti iscrivi a un corso di pilates e la pianti là".
Paura e basta, senza troppi giri di parole
Paura che si disintegra non appena Greg Dulli e compagni imbracciano i loro strumenti, per attaccare 'Jyja', quarta traccia del loro recentissimo "How Do You Burn", uscito a cinque anni dal precedente "In Spades".
Bassi potentissimi, suono pieno e corposo, gli Afghan Whigs non fanno sconti.
Sono passati trentasei anni dalla notte di Halloween del 1986 e se si cercano conferme ai cliché dell'eterna giovinezza, un live della band di Cincinnati potrebbe fornirne diverse.
La partenza della band è fulminante.
Una sequenza ininterrotta di canzoni tirate allo spasimo, senza pausa tra la precedente e la successiva, senza lasciare tregua, respiro e convenevoli al numeroso pubblico del Largo Venue.
Motori al massimo, un muro di feedback e di chitarre, il basso di John Curley, insieme a Dulli, il solo rimasto della storica formazione, distorto quanto basta per non farti capire se quelli che senti arrivare siano pugni dati con dolcezza, o carezze troppo energiche.
Il violino di Rick Nelson è il giusto complemento al muro di distorsione.
E poi la voce di Greg Dulli, potente e presente.
Urlata quanto basta per essere perfetta e che andrà incredibilmente a migliorare con il prosieguo del live.
Se poi alla chitarra solista chiami l'ex Blind Melon come Christopher Thorn, che imbraccia una Telecaster customizzata con un doppio humbucker, alla quale aggiunge ettolitri di wah wah e distorsioni valvolari a manetta, allora vinci a mani basse, almeno con me.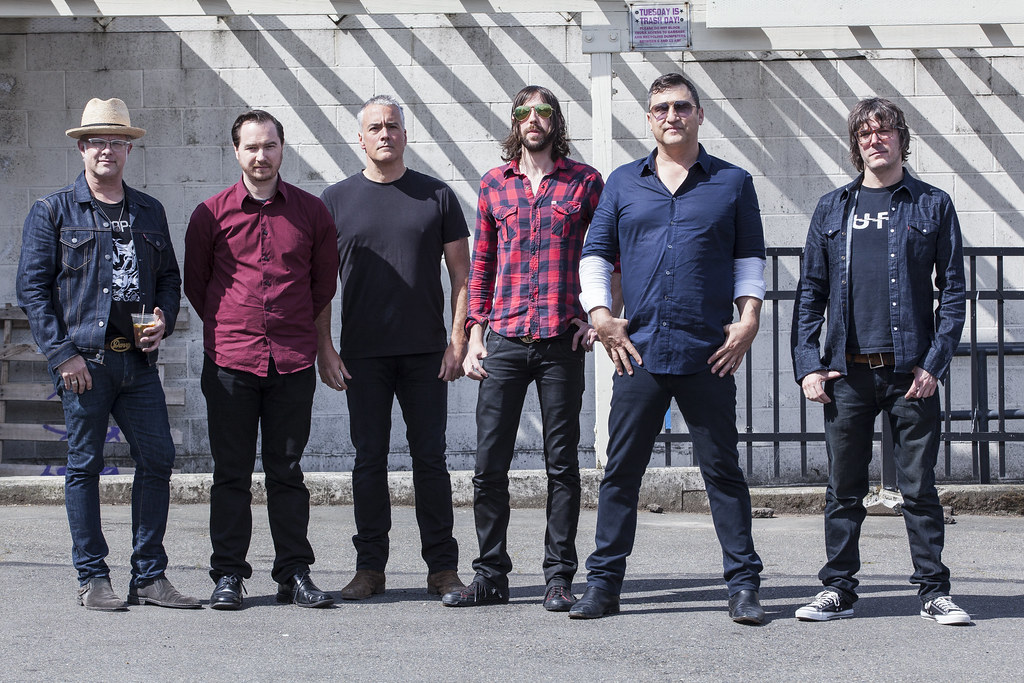 La ricetta è tanto semplice quanto di sicuro successo: prendi il pubblico, centrifugalo e non mollarlo mai nemmeno per un attimo.
Contravvenendo agli insegnamenti di Sun Tzu, che nel suo "L'Arte della Guerra" ammonisce di vincere, ma mai stravincere, il colpo del Ko scelgono di darmelo con la cover di 'Heaven On Their Minds', brano di apertura di Jesus Christ Superstar.
C'è il tempo per un paio di ballad, in cui Greg Dulli ne approfitta per riprendere un po' fiato e continuare con omaggi e citazioni.
È il turno di 'Angie' degli Stones e di 'I Cant' Tell You Why' degli Eagles.
E poi via, si riprende con i watt degli amplificatori al massimo e la batteria ossessiva e percussiva di 'Summer's Kiss'.
E quando pensi che la ballad 'Into The Floor' sia la naturale e crepuscolare conclusione di un'ora e mezza di musica senza un attimo di pausa, restiamo tutti inchiodati da quello che non ti aspetteresti mai: un omaggio agli Smiths, una versione quasi sussurrata di 'There Is a Light That Never Goes Down'.
E nessun bis, ed è giusto così.
È Rock, nudo, crudo, essenziale.
Finisce che ti guardi intorno, vedi parecchi volti e corpi giovani, alcuni ad assediare il sottopalco e capisci che sarà impossibile ottenere la scaletta del live.
Ma in fondo con che coraggio dire di no a un povero vecchio che chiede loro di fotografarla?
Photo Gallery Afghan Whigs
Roma, 26/10/2022
© Fabio Arboit / ONR