La serata del 24 aprile al The Garage, Londra si apre a suon di chitarre sporche e ossessive.
I Black Midi, band parte della scena cresciuta attorno al pub di culto The Windmill, a sud della città, non risparmiano colpi e mescolano garage, math rock e new wave con maestria.
Sono giovani e forse in controtendenza con il modo in cui la musica viene promossa al giorno d'oggi: non hanno alcuna presenza online, ma se la risposta del pubblico al The Garage significa qualcosa, ne sentiremo parlare presto.
Sul palco seguono i Drahla, trio originario di Leeds e autore di un post-punk martellante con echi di Preoccupations e Protomartyr.
Le canzoni si distinguono per i loro suoni spigolosi e abrasivi, ritmiche quasi tribali e, forse troppi, tagli improvvisi.
Decisamente, la band ha carisma da vendere e benché si richiami a modelli comuni a buona parte della scena alternativa attuale, è un ottimo antipasto per preparare agli headliner dell'evento.
C'è molta attesa attorno al live degli Ought, almeno da parte mia: ho amato i loro primi due album per le liriche poetiche, le chitarre rubate con garbo ai Television, la loro dolente eleganza post-punk.
Vederli dal vivo significa scoprire se la stessa intensitaà si trasferisce sul palco.
I due brani di apertura sono tratti dall'ultimo disco, "Desire", che presenta un cambio di direzione per la formazione canadese: meno chitarre di ispirazione newyorkese, più spazio al synth.
Un lavoro non meno bello rispetto ai precedenti, ma certo diverso.
Suonato live, con foga e precisione, si anima: i riff e le voci prendono corpo in un affresco personale e complesso.
Mai come prima siamo stati così vicini all'interiorità del frontman Tim Darcy (autore, come solista, del mio disco preferito del 2017): un'occasione irripetibile di sperimentare il mondo attraverso la sua sensibilità, così spiccata.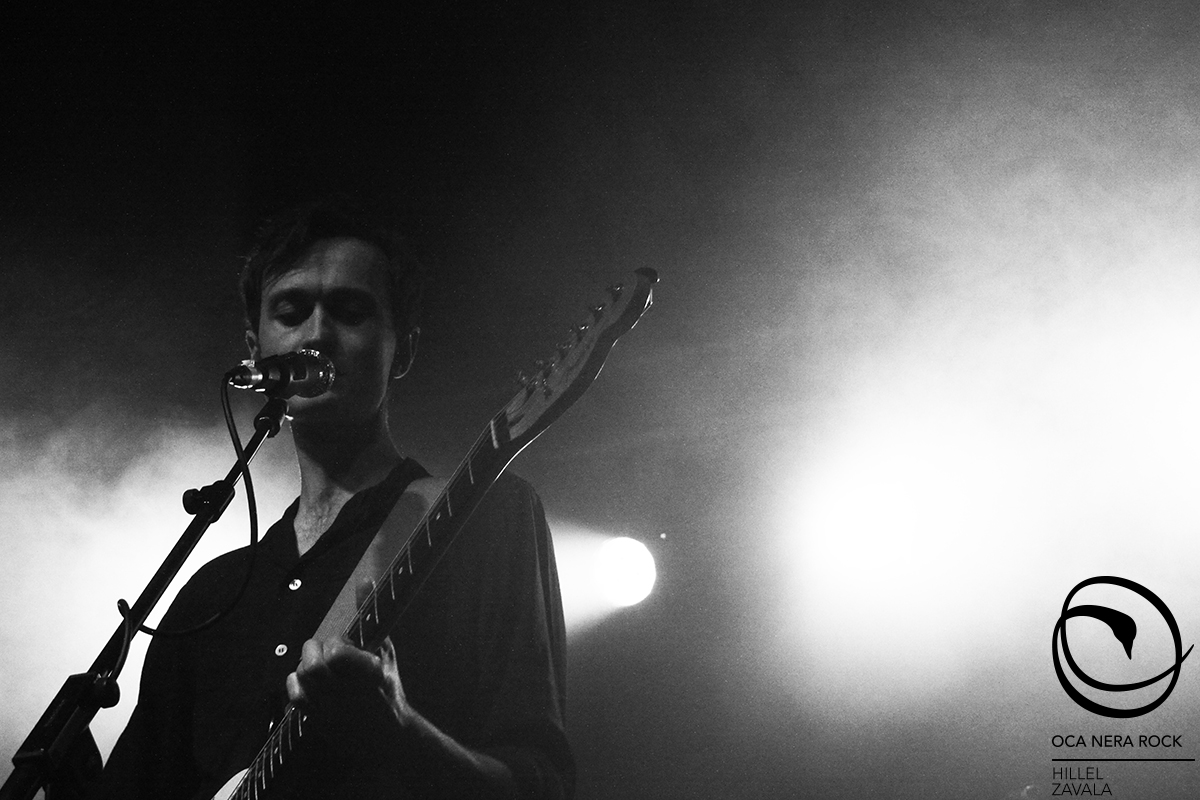 Il picco della performance è forse 'Beautiful Blue Sky', una delle canzoni più belle e struggenti del repertorio degli Ought: sette minuti di odissea suburbana, in cui Darcy decostruisce il linguaggio delle interazioni quotidiane – «Come stai? Come va a lavoro? La casa? La famiglia?».
Utilizzando la ripetizione ossessiva come strumento per sottrarre significato a tali domande, la canzone culmina in momenti epifanici in cui l'ideale protagonista realizza il valore del tempo vissuto, e dell'essere nel momento: «I'm no longer afraid to die / Cause that is all that I have left / Yes! Yes! / And I'm no longer afraid to dance tonight / Cause that is all that I have left / Yes! Yes!».
È un pattern che si ripete in molte delle canzoni degli Ought – per quanto mi riguarda, mai banali, grazie al loro mix di poesia e crescendo strumentali, impiegando gli stilemi tipici del post-punk per aprire spiragli di illuminazione liberatoria, positiva, un pessimismo portato agli estremi in cui la rassegnazione diventa un atto di coraggio.
Live la band si mostra affiatata e compatta, anche se Darcy ruba la scena coi suoi manierismi e la sua voce inconfondibile.
Il quartetto suona per un'ora, concedendo un solo bis (la splendida 'More Than Any Other Day'), forse l'unica pecca in una serata perfetta.
---
Vuoi vedere la gallery completa della serata?
Clicca qui.