One wonders what an unsuspecting English bystander, ended up by chance at the O2 Empire Theatre, would have thought at the sight of a fifty-year-old man prancing on the stage, dressed as something in between an Olympic diver and a 1920s starlet, complete with high heels and pink feather scarf. Yet, fans of Elio e le Storie Tese would not expect anything less. The bizarre performances to which EELST's audiences have been accustomed to over the last 30 years are a unique mix of dadaist humour and outstanding technical and expressive abilities. And the concert at the O2 Sheperd's Bush Empire, in west London, (the eight performance of EELST's very first European tour, "Yes We Can't"), certainly did not let down even the most seasoned fans.
With its quaint, art nouveau atmosphere, the theatre was a suggestive setting, albeit a smallish one. The overexcited crowd, squeezed in the pit, did not give the deserved attention to the young opening singer, Davide Shorty. Popularised by his experience at X Factor Italia in 2015, Davide played a few songs from his latest album 'Lo Straniero' (2017): combining soul and hip-hop with a soft, warm vocal timbre, his lyrics deal with daily struggles of Italian expats.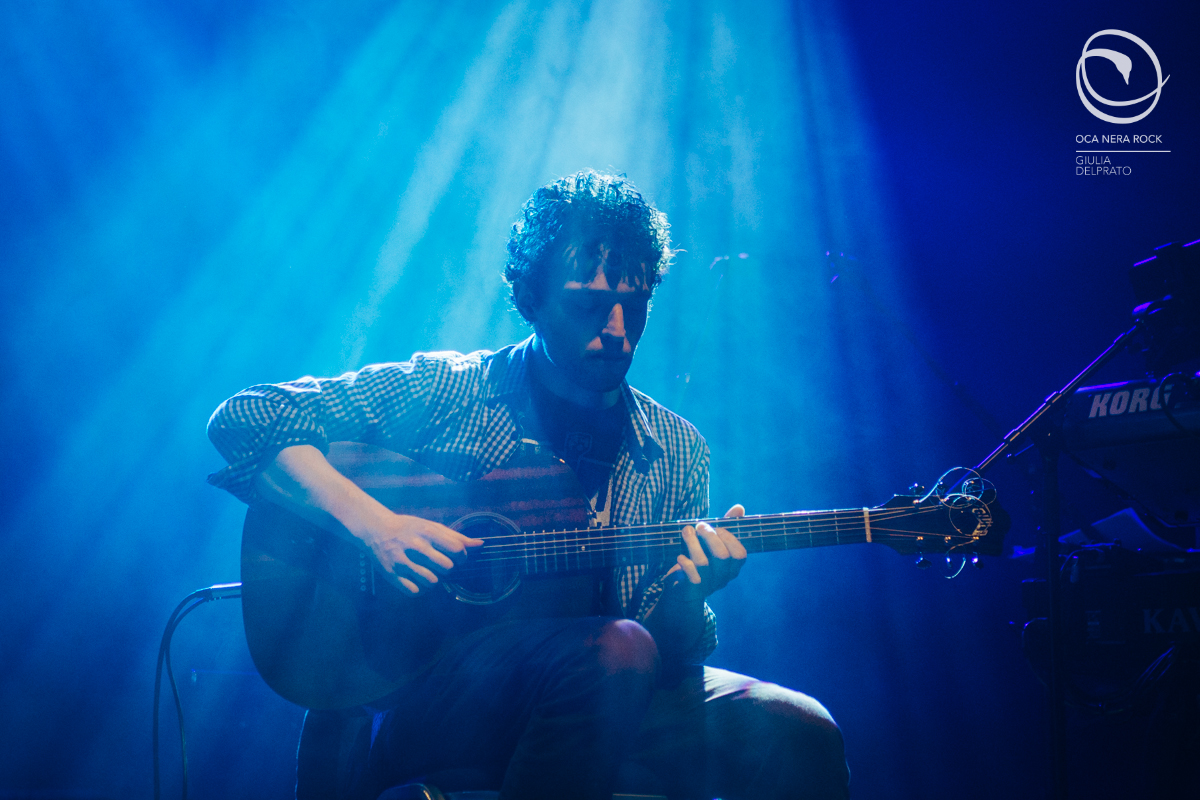 The moment Elio (stage name of Stefano Belisari) and his band got to the stage the crowd broke into a thunderous cheer. Dressed as a walking Italian stereotype (white vest, black curly wig, and waving an Italian flag), Elio started the show with the lively 'Lo stato A Lo stato B', reawakening the audience from the chilled atmosphere of Davide Shorty's sound. As if taking the audience through a tour of EELST's most loved pieces, they performed songs from a variety of albums, all peppered with Elio's signature absurdist jokes, specifically tailored for the crowd of Italian residents in London.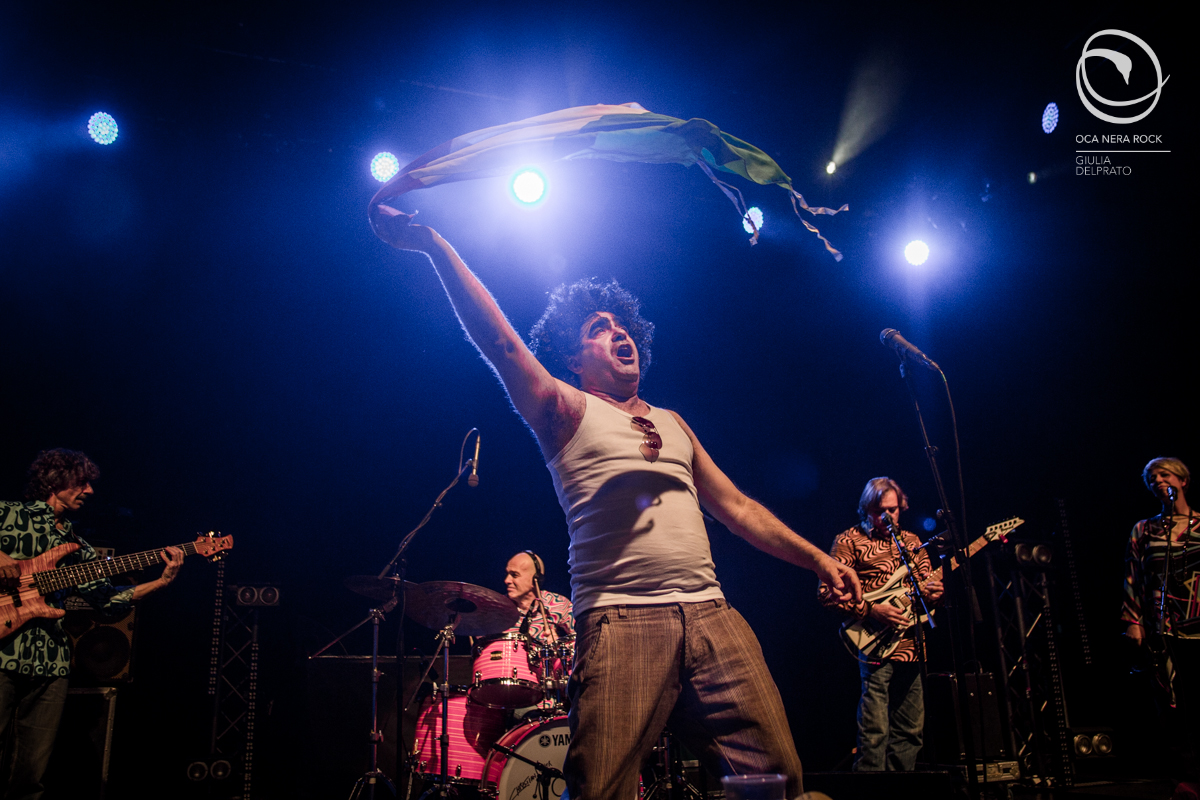 Curiously enough, EELST played only one song, 'Ritmo Sbilenco', from their latest album Figatta de Blanc (2016). A tribute to progressive music, 'Ritmo Sbilenco' starts with a sharp flute solo à la Jethro Tull and is riddled with musical references to the 70s. Throughout the concert, crowd favourites were 'John Holmes', a powerful rock about the struggles of the namesake porn star; 'Mio Cuggino', a jazz inspired piece where the insanely talented bass player Faso (Nicola Fasani) really shines; 'Pagàno', an experimental masterpiece in the style of the late Frank Zappa, which pokes fun at new age religions; 'Come gli Area', a heartfelt homage to Italian cult band Area; and finally 'Servi della Gleba', 'Supergiovane' and 'Tapparella', pieces so momentous that are integral part of Italian popular culture of the 90s.
There is really no need to reiterate how technically skilled EELST are. Both drum player Christian Meyer and guitarist Cesareo (Davide Civaschi) captivated the crowd with exceptional solos. Other than a great frontman and a competent flautist, Elio is also an amazing singer with a surprising vocal extension (especially for a man well into his fifties). Paola Folli, the experienced vocalist who has been collaborating with EELST for years, is an extremely well-known name in Italian pop music and complemented each song with her powerful, silky voice.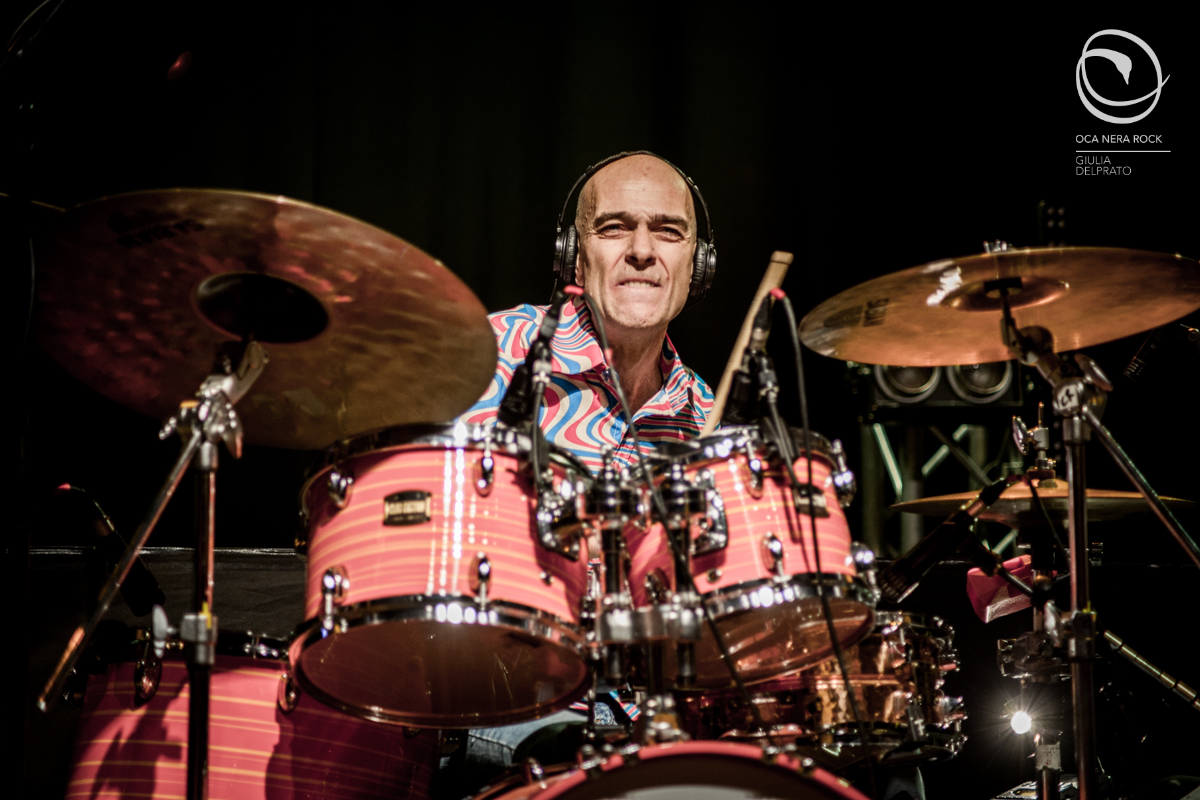 A separate paragraph must be devoted to Mangoni, in a way true protagonist of the show. Worshipped by fans, the eclectic performer has been informally part of the band since the very start. With his truly theatrical routines and outrageous outfits, Mangoni delighted the crowd –even stage diving, in what was probably the highest moment of the evening. Dressed as a bell pepper, a drag queen, a mischievous dog owner, or his cult alter ego 'Supergiovane', he brought an extra layer of exhilarating madness to the entire show.